US publisher revenues from textbooks are projected to rise 3.8% through 2021, with price growth underpinning gains. As the cost of these books continues to rise, consumers – who are primarily students – have sought ways to acquire them at lower price points, sometimes illegally. The need for publishers to overcome this challenge will continue to drive the development of value-added print books, e-books, and their accompanying software programs.

Sounds Good on Paper
Traditional print books will remain the leading media type for book publishing across all markets, reaching $18.1 billion in 2021. Profits will continue to rise at a minimal annual rate, despite the Supreme Court's ruling in Kirtsaeng v. Wiley, which upended copyright restrictions preventing arbitrage by consumers of textbooks. The ruling enables buyers of textbooks, who tend to be college students under heavy financial burden, to purchase English language textbooks intended for sale in other countries at heavily discounted rates through third-party sellers.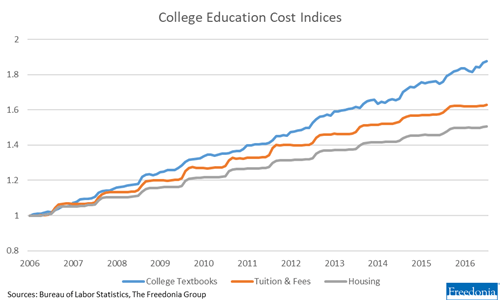 Publishers have realized the need to adapt as students shift their textbook format preferences in the face of rising college textbook and tuition costs. To avoid the financial burden incurred by purchasing textbooks they may not manage to resell, students are spending less from the outset: via renting e-books, sharing copies with other students, purchasing counterfeit versions, or pirating e-books online.
Throwing the Book at Piracy
Combating losses from foreign resale, e-book piracy, and counterfeiting requires publishers to formulate creative ways to adapt to the changing tides of the industry. One solution is to create a more interactive experience for students who purchase the digital e-book version of a textbook. Pearson has developed a new digital learning format – called Revel – which combines the value of an e-book with an upgraded learning experience, including a variety of multimedia formats such as interactive graphics and videos, as well as assessments. Educators are able to more closely monitor student learning and students are able to draw more value from the investment in their educational materials.
Want to Learn More?
Don't worry, we have you covered! For additional information and analysis of US industry trends, see Books: United States, a report published by the Freedonia Focus Reports division of The Freedonia Group. This report forecasts US book publishing revenues in nominal US dollars to 2021. Total revenue is segmented by media type in terms of:
print
internet
other media such as CDs, audiobooks, and e-books published on physical media.
Total revenue is also segmented by market as follows:
textbooks
adult trade
professional, technical, and scholarly
children's
general reference.
While you're there, check out some of our related reports, which include Commercial Printing: United States, Education: United States, and Newspaper Publishing: United States.
About the Author
Chris Dyer is a Market Research Analyst for Freedonia Focus Reports. He holds a Master of Arts in Security Studies, and his experience as an analyst covers multiple industries.