In the 1982 book Megatrends by John Naisbitt, the author made the famous statement, "We are drowning in information but starved for knowledge." Some 38 years later, this sentiment is even more true today than it was then, with the business world more inundated than ever with both quantitative and qualitative data on markets, customers, technologies and trends. However, this data rarely provides insights into discrete market segments and the characteristics that define buying behavior. A company's ability to gather and disseminate data has often exceeded its ability to focus on what data is actually required to build successful and sustainable market strategies.
With all this data available, companies continue to struggle with the critical task of identifying their best potential target markets and how to seize the opportunities that lay within.
Why Should a Company Measure Its Addressable Market?
The cornerstone of any successful market strategy, and the resulting competitive advantage, is a clearly defined market segmentation that identifies, measures and profiles discrete segments that provide a company focus and knowledge. This segmentation identifies the best path forward for gaining revenue, share and profit. In an environment of ever-evolving customer needs and preferences, changing channel options (ie, e-commerce), and the constant emergence of new technologies that can reshape an industry in the blink of an eye, there is an increasing challenge for companies to identify those market segments that it can profitably serve. A well-defined addressable market also allows for the prioritization of new product/service development that can best meet changing customer needs.
Ultimately, all companies are trying to identify, establish and enhance profitable customer relationships. Successful companies are able to identify the customer segment(s) they can best serve and that are most willing to consider purchasing from them, and are then able to focus resources on more narrowly  defined segments and leverage key characteristics of those segments for competitive advantage.
In essence, these segments make up what can be called the addressable market. Ideally, the aim is to identify and define the actual market that a company can pursue for revenue and market share. From this addressable market, the company can then determine what the actual opportunity for their product/service is, which some define as SOM (serviceable obtainable market).
For example, a defense contractor that leverages science and technology to create products aimed solely for military applications may want to identify the potential for those same products in commercial applications. In this case, the addressable market for products may be significantly larger than just the military segment. Similarly, evolving consumer behavior may allow a dine-in restaurant chain to begin offering delivery service, again requiring a new definition of its addressable market. Conversely, an industrial mineral producer may experience segments of the market transitioning to alternative materials, therefore diminishing usage and requiring the company to redefine its actual addressable market.
How Does a Company Identify Its Addressable Market?
The information is out there, but obtaining it takes a coordinated and focused research effort. Companies don't need more market research, they need more focused market research, and to that end, targeted research that clearly defines a market is infinitely more valuable than broadly defined industry analysis.
A necessary and valuable first step is the identification of a broadly defined market and its demand and growth estimates for a period of time moving forward. This information, while valuable, does not provide a sufficient level of market knowledge upon which to build a market strategy. Subsequent research, conducted either using internal resources or third-party vendors, is needed to provide an understanding of customer behavior, the key drivers of that behavior, and where competitive weakness may lie that could allow for growing revenue and market share. Understanding the key drivers of customer behavior – why they purchase certain products and services, and why they choose particular suppliers – represents critical knowledge necessary in defining your addressable market.
Additionally, the identification of unmet needs or pain points in the market and competitive landscape research that identifies the offerings, value propositions, channel strategies and potential limitations of competitors help fill out the plot lines in the story being built.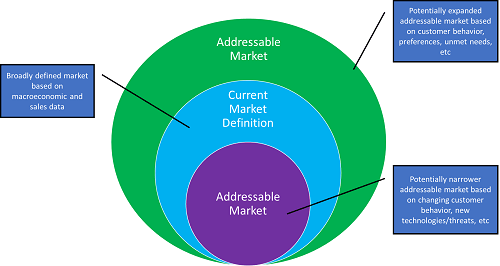 How Should a Company Obtain and Analyze Market Information?
As in professional carpentry, the philosophy when looking at markets should always be to "measure twice and cut once". The costs and risks of entering or focusing resources on market segments using only limited knowledge are prohibitive. Consequently, having the right information and ensuring the credibility and accuracy of that information are imperative.
The best avenue for obtaining market knowledge is through targeted primary market research, supported by secondary source data and analysis, both aimed at uncovering specific data on the market characteristics outlined above. Talking with industry participants at each node along the value chain will provide key perspectives from both suppliers and customers on products and services, trends and other specifics. For example, manufacturers can offer insights on product features and operational issues, as well as their channel relationships. Distributors understand their customers' needs and behaviors, and have a unique depth of knowledge on the key suppliers in the market. Finally, end-users can share their purchase drivers, product and channel preferences, level of satisfaction with current solutions and providers, and any pain points and unmet needs that may exist.
Where to Learn More
The analysts at Freedonia Custom Research are highly skilled in analyzing global industrial and business-to-business markets. For more than 15 years, we have been helping clients make the right decisions through hundreds of complex projects completed for many of the largest industrial companies in the world. Freedonia Custom Research has completed a variety of research projects across a number of industries, aimed at identifying and qualifying a company's addressable market. Contact us to discuss your specific research needs and to explore how we can help you achieve your strategic goals.
About the author: Donald Sabatini is a Senior Analyst with Freedonia Custom Research, where he is responsible for building market research activities, analyzing and synthesizing the resulting data, and providing insight and recommendations for clients. Donald holds an MBA from the Weatherhead School of Management at CWRU and has over 30 years of experience in business and market strategy development.