Ancient wisdom is becoming cutting edge with consumers who are increasingly hands-on with daily healthcare through functional foods and beverages. Thanks to the huge popularity and now-mainstream status of yoga, the ancient Indian healing practice of Ayurveda is influencing not just exercise trends, but also the food and beverage choices Americans make, as covered in Packaged Facts' Cutting Edge Wellness: Culinary Trend Tracking Series.
Ayurveda is a holistic approach to restoring a person's balance that includes physical, mental, emotional, and spiritual elements. Ayurvedic practitioners use food, beverages, and mindful eating habits to restore the loss of this "balance."
Health-Centric Consumers Embrace Ayurvedic Principles
 Packaged Facts found that for Boomers, Millennials, and other consumers who seek a more holistic approach to their health and wellness, Ayurvedic principles are particularly attractive because of their historical context.
"Ayurvedic food and beverages fit for consumers well-versed in physical fitness, supplement-supported wellness, and alternative medicine. For yogis and those meditating along with Dr. Deepak Chopra or Oprah, Ayurvedic ingredients may already be part of a personal regime," says Kara Nielsen, author of the report. "Paleos, Keto dieters and natural food lovers also find inspiration in some Ayurvedic items, such as ghee and supportive herbs." 
In our try-it-on-for-size wellness society, a few star ingredients and food items have risen out of the Ayurvedic tradition. A specific Ayurvedic diet probably won't become an exclusive practice beyond those consumers who work with healers for specific treatments, but several food products benefit from a touch of tradition. 
On top of its popularity in packaged foods and beverages, turmeric is getting new call-outs on trendy menus, and has become a super-spice gilding hot beverages in coffee shops nationwide. Or take ghee (like brown butter, part of the flavored butter revolution) which is enjoying rising popularity in the natural and specialty grocery channels.
Behind these popular health-food ingredients is a menu of more traditional Ayurvedic staples. Herbal and medicinal teas, as well as a slew of novel ready-to-drink functional beverages, tout their potent botanical benefits that connect with consumers interested in holistic well-being.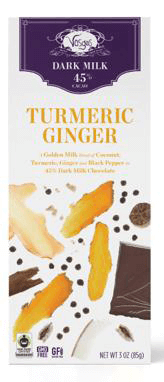 Ayurveda in Functional Health
New ayurvedic products and brands may leverage their audience of yoga adherents and health-nuts by tapping into a real Ayurvedic practices. Moving forward, Ayurvedic foods that have a stamp of authenticity will likely find continued success in the natural foods channel's wellness vein.
Alternatively, many wellness brands are picking and choosing healing ingredients - a pinch of ashwagandha here, a sprinkle of turmeric there - to signal the legitimacy of their product's health benefits. These product brands have the power to offer education resources and supply chain reassurances on marketing materials and websites. 
On the culinary side, regional Indian flavors and forms connect consumers to a deeper cultural context and offer great-tasting vegetarian fare, and will likely become part of a broader approach to wellness that draws from multiple traditions as they become more familiar.
Packaged Facts also anticipates Ayurvedic ingredients gaining more prominence in the functional health space as essential components to holistic wellness.

Discover more about the latest trends in the culinary industry in Packaged Facts' report, Food and Beverage Flavor and Ingredient Trends: Culinary Trend Tracking Series.