The past several years have seen an increase in interest in meat-free and vegan options in the human food market, and the COVID-19 pandemic pushed this demand into overdrive, with meatless proteins and alternative milk products at the top of the growth curve. Like many other human food-related trends, the move towards meat-free products has entered the pet food arena including treats and chews.
Although treats and chews marketed along "meatless" and "vegan" lines still make up a small portion of the overall treats and chews market, the trend is gaining traction, aligning with other overarching pet industry trends including health and wellness and product safety. In Packaged Facts August/September 2021 Survey of Pet Owners, over one-quarter (27%) of pet owners have increased their own consumption of plant-based foods since the start of the pandemic, with over half (54%) of pet owners expressing interest in plant-based proteins in pet treats.
Another meatless option, insect protein, garners interest among more than two-fifths (43%) of pet owners, leaning heavily on sustainability/environmental appeals, another market-wide trend now picking up speed.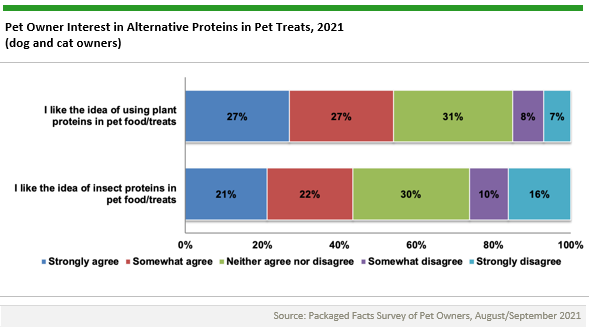 Meatless treats and chews benefit additionally as an entry point for pet food marketers that may be hesitant to dive into meat-free pet foods, since treats are unencumbered by the nutritional requirements attached to complete pet food diets and can be brought to market more easily.
Packaged Facts' fully updated Pet Treats and Chews in the U.S., 4th Edition discusses this trend and a host of others as it explores the factors contributing to the explosive 20% growth the treats market experienced in 2020 and the 15% increase expected in 2021.
About the blogger: Shannon Brown is a long-time pet market research analyst at Packaged Facts offering insights on buyer behavior, competitive players, distribution channels, and emerging products and trends.