Since the depths of the recession, multi-family residential projects have emerged as a star in the building construction market for architectural service providers. From 2011 to 2015, multi-unit housing projects experienced double-digit yearly growth in unit starts, while annual expenditures vaulted 24% at a minimum between 2012 and 2015. This surge in the construction of new multi-unit residential buildings has been evident in many large US cities, such as Chicago, Los Angeles, and New York.
Architectural Service Providers See Revenue Growth From Multi-Unit Projects
Architectural service providers have benefited greatly from the burgeoning construction of multiple-unit housing structures since the depths of the 2007-2009 recession. While spending on residential building construction for multi-unit buildings equals less than a quarter of that for single-unit housing in the US, architectural service providers derive roughly the same revenues from multi-family and single-family housing projects. Architectural service providers draw more revenue from multi-family housing projects relative to total construction expenditures because many states do not require an architect to be involved in the construction of single-family homes.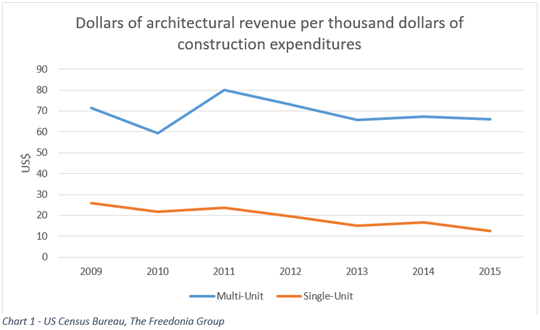 Currently the second largest revenue segment for architectural service providers, revenues from multi-family residential projects actually trailed those from single-family projects between 2009 and 2014. Multiple-unit housing starts began to decline in 2006, and construction expenditures on these buildings began to fall in 2007. By 2008, revenues for architectural service providers were negatively impacted, and the segment plummeted through 2010.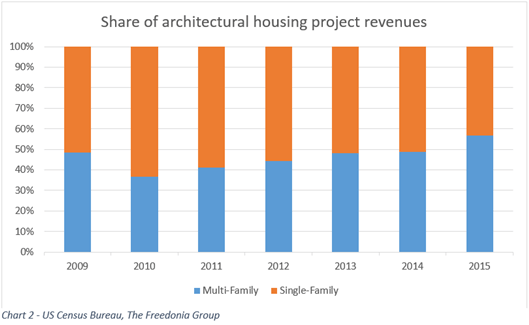 Multi-Unit Housing Gets a Millennial Boost
Several trends have led to the increase in multi-unit housing projects, benefiting architectural service revenues from such projects. One is demographic. The population cohort aged 25-34 has seen a faster-than-average expansion over the past decade or so as millennials have moved into the age bracket. Many of these young people are more likely to rent than they are to purchase their own home, as the average age of a first home purchase registers towards the later years of this age range.
As employment levels slowly improved following the recession, young people who had been sidelined by the economic downturn finally began to find jobs that allowed them to move out of their parent's homes, largely into multi-unit housing. In addition, many young people just entering the workforce found jobs in large metro areas, further boosting demand for multi-family housing. While many people still seek home ownership once they begin to establish families, the average age at which this happens has been rising. 
Learn More
For more insights into the US architectural services industry, see Architectural Services: United States. The report includes revenues for the US industry segmented by non-residential, multi-family residential, single-family residential, interior design, and landscape markets in 2005-2015 historical series with forecasts to 2020.
About the Author
Luke Hickman is a Market Research Analyst for Freedonia Focus Reports. He holds a degree in economics, and his experience as an analyst covers multiple industries.