In its just-released Buy Now, Pay Later: Point-of-Sale Installment Loans (September 2021) report, Packaged Facts estimates that the BNPL installment lending market in the U.S. grew to $250 billion in 2020, for a compound annual growth rate (CAGR) of 33% over the previous five-year period.
While there had been concern that the economic uncertainty attendant with the global pandemic would adversely affect the BNPL installment loan industry, it did not. Instead, consumers shifted much of their retail spend to debit cards and BNPL installment loans as they paid down credit card debt and reined in household spending, placing guardrails around their budgets. The other key beneficiaries of changing consumer payment preferences were debit card servicers.
A proprietary Packaged Facts August-September 2021 online survey conducted for this report shows that 34% of the Internet-active U.S. adult sample of 2,000 have used Buy Now, Pay Later loans, nearly doubling the 18% figure from an earlier February-March 2020 survey.
Almost half of recent BNPL loan customers had used PayPal Credit as a provider. Affirm, Afterpay, and Klarna follow with significant market shares.
Recency reigns among BNPL loan customers, further indicating the high demand for this short-term form of financing. Among those who have used BNPL loans in the last 12 months, as shown in the figure below, 43% had done so in the preceding 30-day period, and another 36% within the preceding 1-3 months.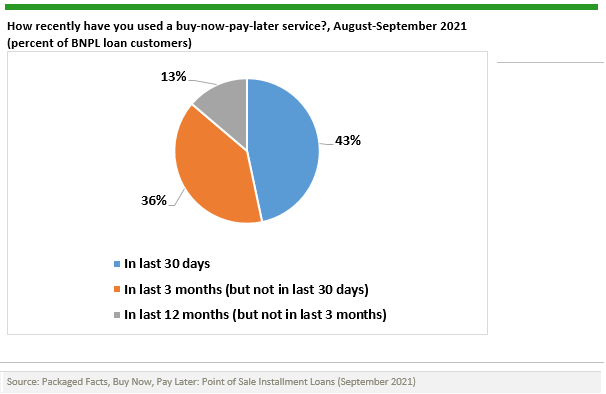 Where to Learn More
For a complete review of the market for BNPL lending, see the 2021 Packaged Facts report Buy Now, Pay Later: Point of Sale Installment Loans in the U.S. Market and International Perspectives, 2nd Edition.