Although veterinarians remain the main source for buying pet medications, e-commerce has cornered all the growth momentum.  In 2019, the pet medications market entered a new, more Internet-driven era as Chewy and Walmart opened up online prescription pharmacies and Petco teamed with Express Scripts for online pharmacy fulfilment.
Enter 2020, with pandemic-driven online sales spiking across all pet product categories, pet medications included. On top of the ramped up activity of Chewy, Walmart, and Petco, last year saw:
Walmart partner with Nationwide pet insurer to provide Nationwide members affordable prescription medications, increasing its reach in the market,
Chewy add compounded medications to its pharmacy arsenal, and
Tractor Supply Co. launch its own online pet pharmacy, TractorSupplyRx.com.
Packaged Facts survey data show that online shopping rates for pet medications notched up in the wake of COVID-19. In our February 2021 survey, 23% of dog and cat pet product shoppers had purchased flea and tick medication online in the past 12 months, compared to 18% in the previous-year survey. As of February 2021, similarly, 19% had bought heartworm medication online in the past 12 months, compared to 11% the year before.
Internet Purchasing of Pet Products in Past 12 Months by Type
February 2020 vs. February 2021
(percent of dog or cat product shoppers)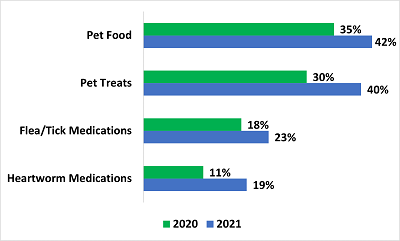 Based on online survey panel of 2,000 U.S. adults 18+
Contributing to this online shopping boom are autoship and subscription delivery services, which have long been a strategic focus for pet products generally for Chewy as well as Amazon. Autoship rates for flea/tick and heartworm medications—at 8% each in 2021—doubled since 2020.
Of the major brick-and-mortar-based pet retailers, only PetSmart has yet to (re)launch online pharmacy access in the wake of its separation from Chewy/Chewy Pharmacy. And while Amazon has not yet announced any intention to enter the pet pharmacy space, the e-commerce juggernaut is a potential—and likely—prescription pet medications behemoth, given its launch of its Amazon Pharmacy and PillPack services for people.
Whatever the timelines and tactics of key pet market competitors, pet medications e-commerce will for years to come continue to out-perform sales growth through all other vet, pet specialty, or retail store channels.
Where to Learn More
For more information on the pet medications market, see Packaged Facts' just-released Pet Medications in the U.S., 7th Edition, which covers historical and projected retail sales from 2016 through 2025, competitive strategies of key players, marketing and new product trends, retail/e-tail channel dynamics, and opportunities for growth.