Despite historic declines in coal production volumes, coal mining represented the largest market for explosives in 2016. Although it never came into effect, the announcement of the Obama-era Clean Power Plan, among other regulations, encouraged a shift away from coal and towards cleaner, cheaper alternatives like natural gas. However, with the change to the Trump administration came promises to roll back these proposed restrictions and potentially increase demand for coal, which would boost sales of explosives to the coal mining industry.
Shockwaves in the Coal Mining Industry
For decades, coal production volumes have gradually declined. Environmental regulations and low prices for natural gas weakened coal's share in electricity generation over the 2006-2016 period by driving utilities to close aging plants that they found uneconomical to retrofit with clean-coal technology or convert to natural gas or other alternatives. However, Trump's announced EPA rollback of the Clean Power Plan improved the prospects for some rebound activity in coal production. Nevertheless, growth in electricity generation from coal will remain constrained by strong competition from natural gas and renewables.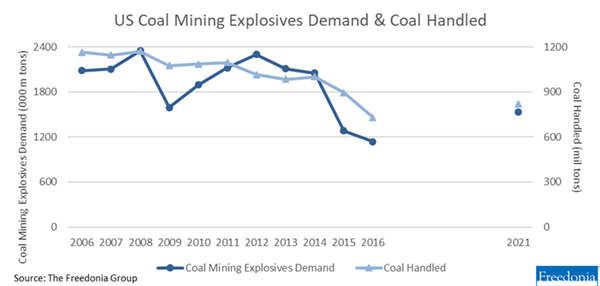 Although coal is not likely to return to its former glory, coal production is forecast to begin to bounce back some from declines over the 2014-2016 period. With the increase in coal production comes an increased demand for explosives – particularly for blasting agents.
A Mild Boom in Blasting Agents
Demand for blasting agents is also expected to benefit from the increased use of explosives to remove waste materials as strip ratios in coal mining continue to rise. Strip ratio refers to the ratio of the volume of waste materials that must be removed to the volume of coal mined. As more and more coal is mined, what remains is far more difficult to access. This necessitates the increasing use of explosives to free the minerals.
Want to Learn More?
Don't worry, we have you covered! For additional information and analysis of US industry trends, see Explosives: United States, a report published by the Freedonia Focus Reports division of The Freedonia Group. The report also includes numbers and analysis covering US explosives demand by product and market for 2006-2016 with projections to 2021. Demand by product segment includes:
blasting agents and oxidizers
high explosives.
Demand by market segment includes:
coal mining
construction work
quarrying and nonmetal mining
metal mining
other markets such as avalanche control, oil and gas well perforation, and seismic surveying.
While you're there, check out some of our related reports, which include Mining & Quarrying: United States and Mining Equipment: United States.
About the Author
Chris Dyer is a Market Research Analyst for Freedonia Focus Reports. He holds a Master of Arts in Security Studies, and his experience as an analyst covers multiple industries.