The US fabricated metals industry is highly affected by construction markets, as a significant amount of fabricated metal products are used in various construction projects. Robust growth in construction activity – both in the US and in key export markets – is allowing fabricated metal producers, particularly those specializing in structural metals, to forge a better path to 2021, despite historical trends darkened by plant closures and heavy declines in demand.
Recession Woes & Industry Consolidation
The Great Recession seriously hampered the fabricated metal products industry. The number of US establishments producing fabricated metals fell from 59,000 in 2006 to under 55,000 in 2014, largely due to bankruptcies as well as merger and acquisition activity. Demand for fabricated metals receded by nearly one-fourth in 2009. Construction expenditures fell between 2007 and 2011; these extended declines hampered fabricated metals' recovery in 2010 and 2011. Weakened demand coupled with high debts led some fabricated metal companies to face financial difficulties, such as Morton Metalcraft, which declared bankruptcy, and Lortz Manufacturing, which closed abruptly. Even after the recession ended, lingering effects led to continuing struggles for some fabricated metal companies.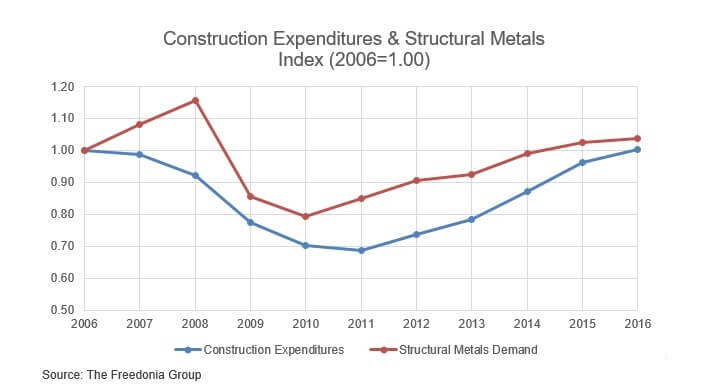 Structural Metals Success
US demand for structural metals, which constitutes the largest share of fabricated metal demand and one of the fastest-growing segments, is forecast to reach $97.5 billion in 2021. Because the primary market for structural metals is construction, this sector was hit especially hard during the recession and rebounded slowly thereafter, not yet achieving 2008 levels by 2016. However, in 2021, demand for structural metals is expected to exceed this pre-recessionary peak amid robust growth in construction activity, particularly for office and commercial buildings.
Strong Export Markets Aiding Growth
The largest export markets for US fabricated metal products include Canada and Mexico due to geographic proximity and NAFTA partnership. The importance of international markets to the fabricated metal industry is expected to grow further as increasing construction activity in countries such as Canada, Mexico, and China drives demand for structural metals.
Over the 2006-2016 decade, export values grew briskly. Despite the US maintaining net imports of fabricated metal products, exports held a large share of total trade. Exports accounted for 11% of US fabricated metal shipments in 2016, up from 8.9% in 2006. The large construction markets of China and Mexico grew quickly during the 2006-2016 decade, with growth in exports to these countries far outpacing overall exports of fabricated metal products.
Want to Learn More?
For in-depth analysis of fabricated metal product trends, see Fabricated Metal Products: United States, a report published by the Freedonia Focus Reports division of The Freedonia Group.
This report contains historical data and analysis of fabricated metal product demand and shipments in value terms from 2006-2016 with projections to 2021. Demand is segmented by type as follows:
structural metals
forging and stamping
machine shops
metal containers
coating and treating
fasteners and hardware
cutlery and handtools
springs and wires
other products such as ammunition, bearings, and industrial valves.
While you're there, you can check out related reports such as Sheet Metal: United States and Construction: United States.
About the Author
Cara Brosius is a Research Analyst with Freedonia Focus Reports. She holds a degree in economics, and her experience as an analyst covers multiple industries.