The pet population boom that resulted from COVID-19 was especially pronounced in the "other pet" (non dog/cat) market, such that products for reptiles, small mammals, and fish were snapped up at historically high rates.
Among households that added pets in the 12-month period ending February 2021, 31% added pets other than dogs or cats, a disproportionately high number given that these pets were kept by only 20% of pet-owning households in 2019. Overall, 12% of U.S. households now have pets other than dogs and cats, for a total of 16 million households. This population surge led to a corresponding sales increase in the other pet market, with sales soaring 18.5%.
Why do millions of Americans opt for pets other than dogs or cats? Nearly two-thirds of other pet owners (65%) enjoy keeping them because they are fun to watch and observe. Over half (52%) simply love this type of pet. Other common motivations include these pet being fun to interact with, to bring liveliness into the home, and for companionship.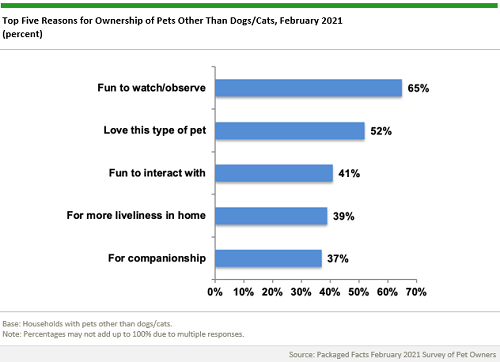 Where to Learn More
 For a closer look at this dynamic market, check out a new report by Packaged Facts titled Fish, Small Mammal, Herptile, and Bird Products: U.S. Pet Market Trends and Opportunities, 3rd Edition.
About the blogger: David Lummis is a long-time Senior Analyst and Consultant focusing on the U.S. pet market for Packaged Facts.