Inflation remains a primary concern across consumer markets, with a range of factors combining into the perfect storm of economic pressures. Manufacturers across the pet industry have slowly increased their prices, spurred by challenges in acquiring ingredients, packaging materials, and a host of other items that go into making and selling pet products.
Fueling inflation are supply chain issues that began with the 2020 COVID-19 shutdowns, though have since been compounded by surging consumer spending, additional shipping delays, overcrowded warehouses, and shortages of both shipping containers and long-haul truck drivers.
Pet product marketers must contend with demand for ingredients that are increasingly difficult to acquire. At times, store shelves remain unfilled and force pet owners to purchase different products or brands than they typically would.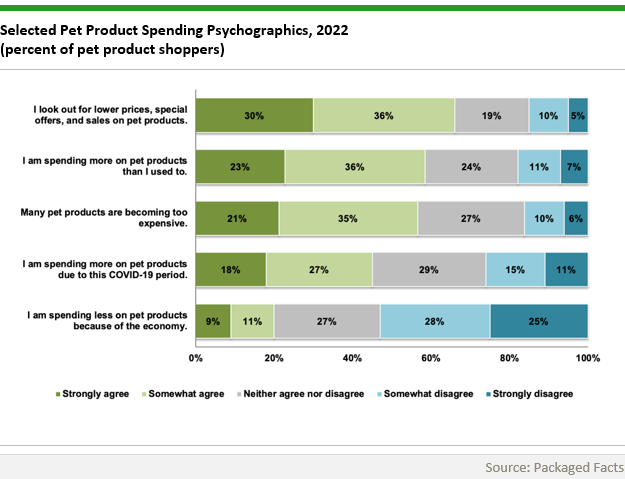 U.S. pet owners and pet product shoppers are well aware of the shifting landscape, as shown by comparing Packaged Facts' 2021 Survey of Pet Owners with this year's iteration:
59% are spending more on pet products than they used to, up from 45% in 2021
56% feel many pet products are becoming too expensive
45% are spending more on pet products and attributing it directly to COVID-19, up from 34% in 2021
For more information about this industry trend and other important pet market retailing developments to watch, see the newly published Packaged Facts report U.S. Pet Market Focus: Pet Stores & Pet Specialty Retailing.
About the author: Shannon Brown is a Senior Analyst and Consultant focusing on the U.S. pet market for Packaged Facts.