Not since Tesco's Fresh & Easy has a European grocery chain created such a buzz on the other side of the pond prior even to opening its first store, and the word on the street is Lidl. Fanfare notwithstanding, Fresh & Easy was a colossal flop, but there's no reason to expect anything of the sort from Germany-based Lidl. Fielding more than 10,000 stores in Europe, Lidl has forced into deep-discount mode massive European competitors including Walmart's Asda U.K. Lidl Featuring a limited selection of groceries at rock-bottom prices, along with apparel and home goods, Lidl could have as many as 2,000 stores by 2020. In Europe, Lidl's arch nemesis is another German outfit, ALDI, and even with a massive head start in the U.S. ( approximately 1,600 ALDI stores plus another 450 Trader Joe's) ALDI is not taking Lidl lightly. In early 2017, ALDI announced an accelerated expansion plan to grow its U.S. footprint to nearly 2,000 ALDI stores by the end of 2018. Also gearing up is Walmart. During February 2017 Walmart began testing a new low-price strategy to undercut ALDI and by extension Lidl. Along with Target and even Dollar General, Walmart also is increasingly emphasizing smaller stores including its Neighborhood Markets, which currently number around 700.
E-Commerce Changing the Way Consumers Grocery Shop For Foods and Beverages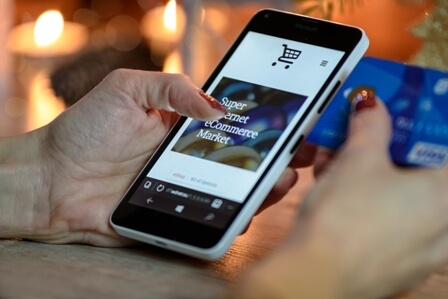 In the $40 billion market for value grocery retailers, Lidl could represent a major shift, possibly influencing the way large numbers of Americans shop for groceries. But there's no "possibly" about another trend:  e-commerce. According to Willard Bishop, online sale of groceries and consumables rose 21% in 2015 compared with 2.5% growth for in-store grocery. Retailers covet e-commerce shoppers because they spend far more than in-store only shoppers and tend to stock up. Not surprisingly given Amazon's incursion into consumables, not to mention those of delivery services like Fresh Direct and Peapod, many brick-and-mortar chains have begun offering online ordering coupled with in-store pickup; the practice is so popular Amazon is considering establishing up to 2,000 "click and collect" stores. Often criticized for lagging behind Amazon, Walmart recently paid billions for e-commerce start-up Jet.com and began shifting to digital the bulk of its $11 billion capital investment strategy, with a particular focus on younger shoppers including Millennials.
The Future of Food Retailing: Value Grocery Shopping, a recent report from Packaged Facts, profiles value grocery retailers across four sectors—supercenters (e.g., Walmart, SuperTarget, Kmart), wholesale clubs (Costco, Sam's, BJ's), dollar stores (Dollar Tree, Family Dollar, Dollar General), and discount/limited-assortment grocery chains (ALDI, Lidl, Food 4 Less and thoroughly analyzes shopper behavior.
Purchase The Future of Food Retailing: Value Grocery Shopping by visiting: https://www.packagedfacts.com/Future-Food-Retailing-10702752/.
-- by David Morris