Millennials, roughly those aged 18-34, and Generation X (aged 35-49) are much more interested in the beauty and attractiveness of the packaging of the items they buy than older generations. Empirically, marketers and retailers recognize this facet of the younger generations, particularly Millennials. For example, the Internet sales giant Jet.com, now a part of Walmart, offers a curated private label brand called Uniquely J, whose identifying feature tying the products together is beautifully produced packaging with original illustrations from artists. The idea is to have products designed to actually look good sitting out in the open rather than tucked away on a shelf.
Given the increased premiumization of pet foods, it is not surprising younger pet owners are just as interested in beautiful packages of pet food to signify their devotion to their pets. In Packaged Facts' recent May 2018 survey of 2000 U.S. adults, 21% of pet owners agreed that the attractiveness of pet food packaging was important to them. What is more interesting, however, is the wide difference in answers when looking across age cohorts. In fact, 25% of those aged 18 to 34 and 35 to 49 agree that the attractiveness of pet food is especially important, while only 15% of those aged 50 and over were in agreement. [Figure 1]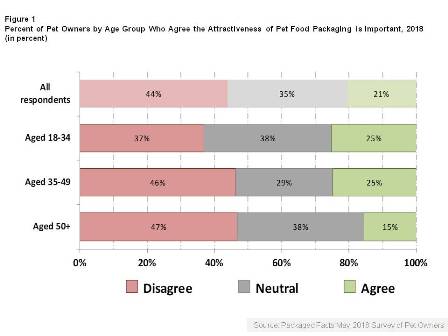 What is even more important for pet food marketers is that these younger pet owners will actively avoid unattractive pet foods. After all, how can you Instagram photos of you and your favorite pooch sharing a lovely meal when the package Fido's food comes in just isn't photo worthy? In this case, Millennials are slightly more inclined than Gen X'ers to avoid pet foods with unattractive packaging, but both age cohorts are much more likely to do so than those aged 50 and over. [Figure 2]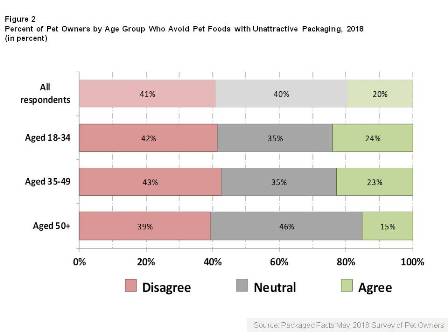 Given the importance of capturing the attention and sales of a quarter of Millennials and Generation X pet owners for your pet food, it seems high time that a makeover and design refresh is in order. In fact, many companies have been doing just that. For more information on the packaging trends affecting pet foods and other pet products, check out Packaged Facts' report Pet Product Packaging Innovation.
-- by Norman Deschamps, market research analyst