For over a decade, the pet market has followed trends in myriad human markets, including an unrelenting focus on health and wellness that has only been sharpened by the pandemic. The spotlight on disease prevention, especially, has caused Americans to embrace strategies to keep themselves healthier and more likely to survive the virus. Because just over half (53%) of pet owners agree that having pets inside the home is a household cleanliness and hygiene concern (with 22% strongly agreeing), litter and cleanup products have become an even more important part of pet ownership. Litter that doesn't track mess through the house, urine pads that don't leak, and pet-friendly cleaning/sanitizing and odor-control preparations are all a must.
This focus on human health has also helped to increase awareness of the health and well-being of our pets, with 41% of owners paying closer attention to their pet's health and wellness because of COVID-19 and 14% changing the pet healthcare products that they buy, as reported in Packaged Facts' November/December 2020 Survey of Pet Owners. This trend has been widely and rightly attributed to pet owners' spending more time at home and in closer contact with their pets – physically and emotionally – and therefore identifying and more proactively addressing existing or potential health issues.
Mirroring pet owners' own health priorities during the pandemic, the top pet health concerns included anxiety/stress (with 21% of owners "especially concerned") and immunity (19%). Also as in human healthcare, pet owners are likely to view advanced age as placing their pets at higher risk; 25% of dog owners and 19% of cat owners care for a pet with aging-related special needs. Litter that can identify potential health problems in cats and more frequent, stress-relieving walks for dogs (with accompanying increased usage of dog waste bags) are two of the ways this trend is manifesting in the litter and cleanup market.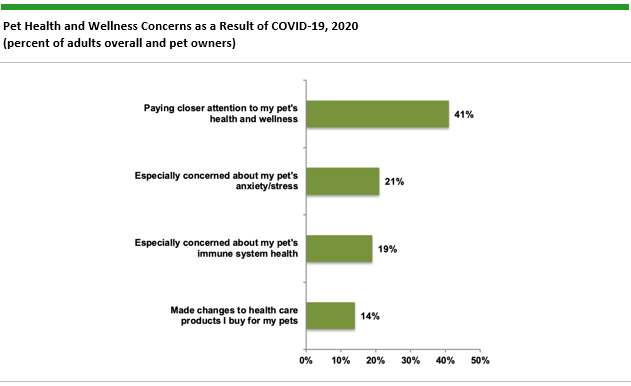 For more information, please see the newly published Packaged Facts report Pet Litter, Cleanup, and Odor-Control Products: U.S. Market Trends, 3rd Edition.
About the blogger: Shannon Brown is a Senior Analyst and Consultant focusing on the U.S. pet market for Packaged Facts.