The acceleration of e-commerce is transforming many norms in the U.S. pet industry, including the longstanding retail paradigm, reports Packaged Facts in U.S. Pet Market Outlook, 2018-2019. Most obviously, pet product shoppers are migrating online at a breakneck pace, spiking Internet sales and putting brick-and-mortar-based retailers on a critical offensive. For the big boxes, mass and pet specialty alike, the universal response is to ramp up their own online initiatives—PetSmart buys Chewy.com, Walmart buys Jet.com—while stomaching the reality that even those advances will likely come partly at the expense of their brick-and-mortar operations. Most are embracing an omnichannel strategy aiming to interface online and physical stores through initiatives like click-and-collect (online ordering coupled with in-store pickup), home delivery, and loyalty programs. At the same time, brick-and-mortar-based retailers are looking to outmaneuver Internet sellers by any means possible, as pet specialty retailers are doing by delving more deeply into services. Even here, however, the Internet is not without potency, as seen in the rise of Uber-like petcare services such as Rover and Wag!.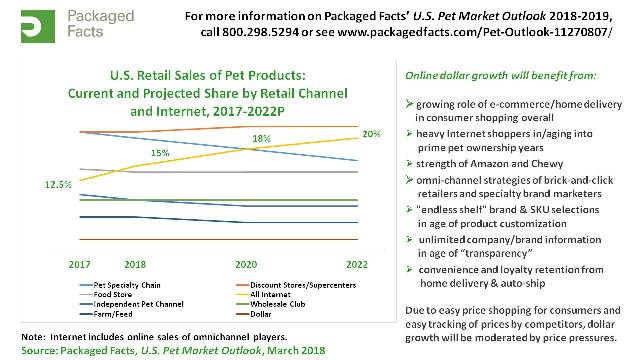 Expect a Rapid Acceleration in Mass Premiumization of Pet Products
With its virtual marketplace, e-commerce is also pounding away at the already cracked wall between pet specialty and mass channels and accelerating the trend of mass premiumization, aided and abetted by the cross-over of formerly pet-specialty-only brands like Nature's Recipe and Blue Buffalo, and by the introduction of new pet-specialty-type products like Mars' Thrive and Nutrish's Peak. Even General Mills' surprise purchase of Blue Buffalo in February 2018 can be attributed at least partially to the Internet. One of the reasons the cereal giant was attracted to Blue was the pet food maker's strength in e-commerce, which generated more than $250 million in net revenues in 2017, up over 75% versus the prior year.
With Blue Buffalo under General Mills, expect to see a rapid acceleration in mass premiumization. In statements to the press, General Mills, whose sales had been declining, and which was itself a possible acquisitions target, seems to make its intentions clear. As reported by The Wall Street Journal (February 23, 2018), "General Mills says it plans to expand Blue Buffalo by selling it in more places, including convenience stores and big-box retailers, a strategy it says helped make Annie's successful." It's a safe bet the company will waste no time, no doubt well aware, as the Journal further reports, that "competition is rising, especially as retailers seek to promote their own premium pet products under store brands, said Sikich Investment Banking director Thomas Davenport. Commodity giant Cargill Inc. recently acquired Pro-Pet, an Ohio-based manufacturer of private-label pet foods, to capitalize on the trend." This will likely be very good news for mass retailers, which, in a sharp turnaround, surpassed pet specialty in pet food sales growth for the first time in many years during 2017.
Follow the Pet Market Innovators
This activity would appear to leave other marketers of pet-specialty-exclusive brands with little choice but to follow Blue's lead—which as of early March 2018 Mars appears to be doing with Nutro. During a visit to a Kroger store in Kentucky, I spotted a pop-up display for Nutro pet food even though a subsequent Internet search revealed that Mars had made no prior announcement.  In March 2016, as it expanded Natura into big-box pet specialty, Mars broadcasted that two of the other brands it acquired with its 2014 purchase of P&G's pet food business, California Natural and Evo, would remain exclusive to pet specialty. With its mass expansion, Blue Buffalo did the same for its Wilderness, Basics, Freedom, and Earth's Essentials lines. But all of these brands are available online via Chewy.com and other Internet sellers, all but voiding the exclusivity claims. In vivid counterpoint, shortly after PetSmart purchased Chewy.com, superpremium pet food makers including Tuffy's (NutriSource, PureVita, and Natural Planet), Champion, and Fromm Family Foods severed ties with Chewy and reaffirmed their commitments to independent pet food distributors. The takeaway is that, insofar as it continues to endure at all, the pet specialty/mass divide will heretofore be defined primarily by pet specialty independents.
 - By David Lummis, lead pet-market analyst for Packaged Facts, a division of MarketResearch.com, and the author of Packaged Facts'