Digital pet care is the virtual exchange of pet health-related data and dollars. Between technological advances and the ongoing – if not permanent – impacts of COVID-19, the market prospects of digital pet care are stellar.
Packaged Facts defines digital pet care as consumer-targeted products and services that rely on the internet, Bluetooth technology, computers, and/or smartphones for functionality or deliverability. These include e-commerce; veterinary telehealth services; app-based, non-medical pet care services like sitting, walking, and boarding; and digitally connected products like trackers/monitors, automated feeders/waterers, and smart litter boxes.
Digital pet care was taking off before the pandemic, and all sectors are poised for ongoing rapid growth. Advancements in digital pet care largely correlate with pet owners' consumption of pet care information. As reported in Packaged Facts' new  Veterinary Services in the U.S.: Competing for the Pet Care Customer (January 2022), veterinarians top the list as the most important source of pet care information at 58% of pet owners, but they are followed very closely by omnichannel (stores + internet combined) outlets at 56%.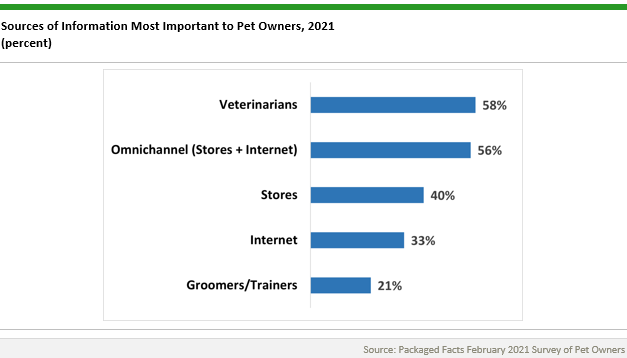 It follows that veterinarians must keep pace with the digitalization of pet health care information to remain top-of-mind among tech-savvy consumers of pet care services and products. E-commerce provides a direct parallel here; as with e-commerce, veterinary service providers must simultaneously compete against and embrace the digitalization of pet health care information, because it has the capacity to both cannibalize current sources and keep the veterinary sector on a healthy growth track.
Put another way, telemedicine and other digital technologies that connect veterinarians and clients will be as transformational in vet services as e-commerce has been in pet product retailing.
About the blogger: David Lummis is a long-time Senior Analyst and Consultant focusing on the U.S. pet market for Packaged Facts.