Importers and exporters have long taken advantage of free trade agreements to circumvent tariffs using such methods as transshipments, outsourcing production, and internal supply chain shifts. Increasingly, however, Chinese manufacturers are taking a simpler – if more ethically dubious – approach to avoiding US-imposed tariffs: code misclassification.
While this tactic may save a company today, its pervasive use is slowly blinding entire industries to the future. That's because these companies (as well as their suppliers, customers, and investors) rely on trends in government data – the very data they're corrupting with false reports – to help them make business decisions. What markets are growing or shrinking, and how fast? Where should we invest a billion dollars? Where should we hire 10,000 workers?
Rampant code misclassification will make such questions more difficult to answer – and market research and intelligence firms with expertise in correcting data inaccuracies more essential.
Oldest Tricks in the Book
Historically, the most common way for companies to evade tariffs has involved freight forwarding, or transshipments, which entail importing goods to a country that isn't subject to tariffs and subsequently re-exporting those goods to their destination country.
Companies may also avoid tariffs by moving production to countries that aren't scheduled for tariffs. For example, so many US and Chinese companies have relocated production to Malaysia to get around each other's trade sanctions that Malaysian leaders have voiced concern that their country will be subject to expensive anti-circumvention probes.
If It Works, It Works
Although not a new practice, HTS code misclassification has become a key strategy in the US-China trade war.
In 2017, for example, the US Department of Commerce determined that China was already using unfair trade practices related to plywood products, including providing unfair subsidies ranging from 23% to 195% to its producers and selling plywood at below normal pricing to the US market. As a result, the US imposed antidumping and countervailing duties on hardwood plywood products produced in China. To dodge these tariffs, Chinese suppliers have openly and regularly offered to strip their goods of Chinese markings and ship them under different HTS codes.
This practice extended to steel products after the Trump administration's 25% tariffs on foreign-made steel took effect in March 2018. Chinese firms began to reclassify US-bound steel plates as "electric-generating sets" to avoid the duty.
While perhaps an effective means of ducking tariffs, code misclassification has major long-term implications for companies that rely on accurate trade data to make informed business decisions. The practice distorts data – which are used to identify industry trends – and can therefore sow confusion that reverberates across global markets.
Seeing Through the Smoke & Mirrors
Even without such manipulation, clear-cut data are difficult to uncover in free trade environments. The expanding practice of code misclassification has amplified the issue of reliability even further, forcing industry players to be extra cautious when presented with trade data.
Research firms have been cognizant of the impact of these practices for years, and are growing more adept at identifying their impact. Errors in reported trade data are bound to grow across the board as companies get more creative in their attempts to maintain market share and strengthen footholds in foreign markets. For the most trustworthy sources of trade intelligence, market research and intelligence firms will become increasingly important for businesses navigating these tumultuous times in global trade.
To Learn More
To learn more about dueling tariffs and the industries they'll impact the most, check out one of the latest white papers from the Freedonia Group, "US & China: Tariff Impact Report".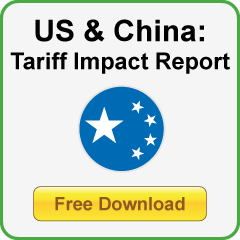 About the Author:
Chris Dyer is a Market Research Analyst for Freedonia Focus Reports. He holds a Master of Arts in Security Studies, and his experience as an analyst covers multiple industries.