With the US and China both standing firm in their resolve to see their trade war through to the bitter end, two new product classes have found themselves squarely in each country's crosshairs – chemicals and polymers.
New Trade War Target: Commodity Chemicals and Polymers
Earlier this week, the US finalized a list of $16 billion in Chinese goods subject to a 25% import tax.  The list included numerous products familiar to US consumers, among them liquefied propane, liquefied butane, styrene, and polyethylene.  In retaliation, China slapped a 25% tariff on its own list of $16 billion in US imports.  Of note on this list were a range of common chemicals and polymers like linear low density polyethylene (LLDPE), high density polyethylene (HDPE), polypropylene, and ethylene vinyl acetate.
The polyethylene tariffs are particularly damaging because the US is a major PE producer, and China is a major PE consumer, as it faces a growing polymer deficit.  According to ICIS, the US is expected to export 458,000 metric tons of HDPE to northeast Asia this year, the bulk of which will be heading to China.  LLDPE and HDPE are both used to manufacture a wide range of common goods, including plastic films and packaging, milk jugs, grocery bags, and detergent bottles.
US Chemical Manufacturers Face Uncertain Short-Term Future
The timing of the tariffs is unfortunate, as the US is in the middle of something of a chemical infrastructure boom.  The surge in US natural gas production has led to cheaper feedstocks, which in turn has led to an uptick in new plant constructions and capacity expansions.  And much, if not all of the new capacity is destined for export to growth markets, of which China leads the pack.
Top manufacturers with large international footprints, like DowDuPont, may be able to circumvent these issues – for now – by diverting shipments from the US to other regions and supplying China from foreign operations.  But this isn't an option for many smaller US manufacturers with heavy investments in the US – particularly in Texas – and it's likely they'll face tougher market conditions and higher prices should the tariffs go into effect on August 23 as currently planned.
To Learn More
Interested in learning more about the brewing global trade war, with analysis and insights from industry experts? Check out the Freedonia Group's new white paper.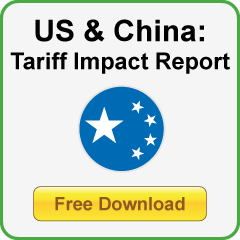 About the Author
Alecia Mouhanna  is a Corporate Analyst at the Freedonia Group, where she researches and writes about a diverse range of topics, including construction and building materials, chemicals, packaging, and more.