US suppliers of consumer water treatment systems – including water purification systems and water softeners – have not been able to duck the reach of recent tariffs imposed on China, as the first tranche of Section 301 tariffs, imposed on July 6, included:
21.00: machinery and apparatus for filtering or purifying water
99.00: parts for filtering or purifying machinery or apparatus for liquid or gases
These tariffs directly affect US suppliers of consumer water treatment systems that either manufacture their products in China or source parts from China. The impact of such tariffs is multifold, as explained by industry participants prior to enactment of the duties during a May 16 hearing.
Among the industry representatives present at the hearing was Judd Larned, president of Culligan International North America. Larned expressed his concerns about the short- and long-term effects of the new duties on his business to members of the trade committee, requesting that either the aforementioned tariff codes be descheduled or exceptions be made for systems produced by his company.
Reviewing the transcripts of the May 16 hearing provides some helpful insights into the concerns US companies are facing due to the Trump administration's trade policy. Among the potential issues industry participants foresee are:
higher costs for consumers, which may reduce volume demand for their products
companies backtracking on expansion plans to mitigate impact on margins
advantages for foreign competitors to the detriment of US producers
Passing Costs on to the Consumer
During the hearing, Larned said that the proposed tariffs would "affect approximately 85 million or 70% of our sales to our independent distributors" and cost the company almost $6 million. Culligan's subsidiary, Paragon Water, would also feel the effect of tariffs, costing the company "up to $10 million next year for a business with a revenue of only $70 million". The higher cost for Paragon is due to its supply chain, through which carbon block is exported to China for incorporation in the company's water filtration products – which are then imported back to the US for sale.
According to Larned's testimony, if Culligan is unable to absorb these additional costs, the prices of its products will rise as much as 25% for consumers, with per unit increases ranging from $250 to $650 dollars. Such an extreme price hike would harm not only sales, but could also limit the ability of some US citizens to access clean water.
Cut Back on Business Expansion Plans & Job Creation
Speaking conditionally – as the US had not yet enacted new tariffs in May – Larned said his company would have to revisit plans to increase its employee base by up to 15% should the new trade policy take effect. Now that the tariffs are enacted, it remains to be seen how Culligan will scale these plans back, but Larned warned of a "significant detrimental impact" on the independent dealers operating Culligan franchises with small employee totals.
Furthermore, Culligan acquired Paragon Water in March 2018, shortly before the Trump administration's announcement of tariffs. Although unknown at the time of this acquisition, future business activity will definitely take into account the potential ramifications of tariffs.
Benefits Foreign Competitors
The tariffs may also end up giving a boost to foreign competitors of US suppliers, such as Culligan and Paragon. By way of example, Larned mentioned that Chinese consumer water treatment product company Haier, which currently sources items from Paragon, could evade the impact of tariffs by sourcing exclusively from Taiwan and South Korea.
Looking Forward
The trade war between the US and China continues to escalate. Beyond the July 2018 enactment of tariffs on $34 billion worth of Chinese goods, including water treatment products, the Trump administration enacted 25% tariffs on another $16 billion in Chinese goods in August 2018. Then, on September 24, the Trump administration levied duties against $200 billion worth of other Chinese products, including activated carbon, a common material in many water filters.
Although it will be some time before the full impact of the Trump administration's tariffs are known, the industry is under a new wave of pressure. The potential problems voiced by Larned in May 2018 are being reiterated by companies throughout the US and serve as a strong example of the ripples that can form from a trade war.
To Learn More
For more information about tariffs and the industries they'll impact the most, check out one of the latest white papers from the Freedonia Group, "US & China: Tariff Impact Report".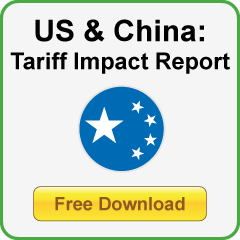 About the Author:
Dan Debelius is an industry analyst at The Freedonia Group, where he writes industry studies on the US & global consumer and commercial goods markets.