While most of the tariffs put forth by the Trump administration have primarily impacted manufacturers of products ranging from steel and aluminum to newsprint and indirectly hit consumers, the most recent list is set to have the greatest impact directly on consumer goods at the retail level. With another set of retaliatory tariffs on 5,745 items inbound, which goods should consumers expect to pay more for in the coming weeks?
Spilling the Beans on Tariffs
The new tariffs cover roughly $200 billion worth of Chinese imports, including commonly bought food items such as processed fruits and vegetables. China accounted for 14% of US imports of fruits and vegetables. Apple juice represented 20% of US imports of fruits and vegetables from China.
These goods – which will be under a 10% tariff– are expected to increase in price almost immediately when the tariffs come into effect September 24th, and consumers will bear the burden. Domestic producers are likely to raise prices as well in order to reap the benefits of higher margins.
The US Secretary of Commerce purports that the average American household will feel little if any impact, as the affected goods represent but a few of the innumerable goods purchased by a household each year. In other words, the price increases will get averaged out by unaffected products. Put yet another way, consumers will take a hit, but it's one they can withstand. That said, how many more hits are consumers going to be expected to take? The tariffs will increase to 25% on these goods – and others – at the start of 2019, increasing the impact on consumers by a margin.
Generating Concern Among Consumers
The most noticeable impact will likely come from purchases made outside of the grocery store, where imports serve a sizable share of the US market. For instance, the new tariffs also target high-ticket items, such as furniture and mattresses.
However, tariffs on electronics may exert the most significant impact. With tariffs, particularly on electronic components, leaping from 10% to 25% in 2019, consumer goods such as smartphones, smartwatches, televisions, computers, vacuum cleaners, projectors, and generators are bound to increase in point-of-sale price. Domesticallyproduced alternatives are few and far between, so consumers may have little choice in the matter.
The War Goes On
What will the future hold for these products? A price increase is all but certain, but will it last? With another list of tariffs already prepared and ready to go in the event of retaliatory tariffs – covering $237 billion worth of Chinese goods – one thing is for certain: the Trump administration isn't backing down from the trade war. For the time being, consumers will shoulder the burden of funding it.
To Learn More
Interested in finding out more about dueling tariffs and the industries they'll impact the most? Download "US & China: Tariff Impact Report", a white paper from the Freedonia Group.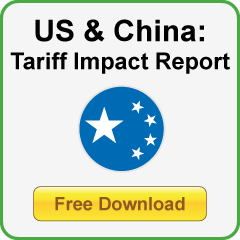 About the Author:
Chris Dyer is a Market Research Analyst for Freedonia Focus Reports. He holds a Master of Arts in Security Studies, and his experience as an analyst covers multiple industries.