Most indoor and outdoor kitchen appliances – everyday items like stoves/ranges, ovens, refrigerators, freezers, and grills – contain large amounts of steel and aluminum.  So the Trump administration's tariffs – 25% on steel and 10% on aluminum from many countries worldwide – have the potential to upend a product market that accounted for more than $18 billion in sales in the US in 2016. Should these tariffs result in price increases for these products – which tend to be major purchases even at their lower price points – sales could slump as consumers decide a new fridge or stove isn't worth the price.
However, not all kitchen appliance manufacturers will be affected by the tariffs in the same way. The effect on a given company will depend on a number of factors, including:
where their manufacturing operations are located (i.e., inside or outside of the US)
whether their supply chains cross US borders (e.g., from headquarters abroad to US facilities)
where they source their steel and aluminum materials (i.e., from an exempt country or a nonexempt country)
whether their home countries face a tariff (or else a quota) from the US
Tariffs Affect Steel & Aluminum Imports from Nearly All Countries
Only a handful of countries have been granted exemptions. Here's the current state of things:
Argentina, Australia, Brazil, and South Korea are exempt from the steel tariff
Argentina and Australia are exempt from the aluminum tariff
While these countries won't face increased taxes on their exports, what they will face are quotas that limit the amount of steel and/or aluminum that can be exported to the US. For example, Brazilian steel imports will be reduced by about one-fifth.
For Appliance Producers, Tariff Ramifications Vary
Exactly how the tariffs will affect kitchen appliance manufacturers depends not only on where their facilities are located, but also on each producer's overall supply chain structure, including material sourcing and product assembly.
A number of factors are at play for Samsung Electronics and LG Electronics, both of which are leaders in the kitchen appliance market and are headquartered in South Korea. Imports of finished kitchen appliances from these companies' Korean facilities have grown rapidly in recent years as electronics companies have made major market share gains in the general home appliance market. But both of these companies have also been making inroads in US production of their goods, since this can reduce shipping costs and allow for greater agility in responding to changes in the US market.
As Samsung's and LG's US production ramps up, the new tariffs on steel and aluminum could raise manufacturing costs, depending on where the materials are coming from. Since these companies are based in South Korea, which is exempt from the steel tariff, it's possible that they could still source their steel and aluminum at home without dramatically increased costs. However, they would ultimately face the quota that limits the amount of South Korean steel they could use to supply their US operations.
These same roadblocks may also apply to both GE Appliances (a US subsidiary of Haier, a Chinese company) and Electrolux (a Swedish company with a major subsidiary covering North America), two leading appliance companies with a wide US kitchen appliance manufacturing footprint. Again, whether their production costs have risen depends on where they source their steel and aluminum. Should they import steel from Brazil, another tariff-exempt country, they won't face added costs directly associated with the tax. However, the quota on Brazilian steel limits its availability to US producers (and could affect its pricing as it raises US demand for tariff-free steel but effectively reduces its supply).
Whirlpool, another leader in the kitchen appliance market, has certainly suffered slower growth since the steel and aluminum tariffs were put in place. The company manufactures its kitchen appliances primarily in the US, and its steel and aluminum sources are primarily derived from countries subject to the tariffs. As such, it's now paying more for materials, cutting into profits and raising product prices. (Whirlpool, an all-American company, had actually lobbied for a tariff on washing machines amid fierce competition from Samsung and LG. It got what it wanted – until the steel and aluminum tariffs complicated their own washing machine production as well as their manufacture of kitchen appliances.)
With Kitchen Appliances, Where Does China Fit In?
The main motivation behind the Trump administration's tariff spree is to punish China, and this has become clearer as Trump has gone on to propose an extensive list of tariffs targeted directly at Chinese finished good imports – a 25% tariff on $200 billion-worth of Chinese end-use products including cooking fixtures, refrigerators, and freezers.
As a significant exporter of steel and aluminum to the US, China is therefore wrapped up in the same developments affecting other steel exporters and the companies they supply. As for Trump's new proposed tariffs, the kitchen appliance market isn't particularly reliant on imports of finished products directly from China. However, while Chinese manufacturers might not produce appliances with the same level of brand recognition as Frigidaire, GE, LG, Samsung, or Whirlpool, they are increasingly competitive, especially as they continue to improve the quality of their products to better match up with the leading brands. Implementation of a 25% tariff could stall progress as these firms lose their competitive pricing advantages.
There is one major end-use product exception, however. Chinese producers are very important to the grill market, since many of the grills sold in the US are made in China. Even large legacy US grill companies like WC Bradley and Weber-Stephen Products (makers of Char-Broil and Weber grills, respectively) contract much of their grill manufacturing out to Chinese companies. So while materials tariffs like the ones currently impacting steel and aluminum may not measurably increase the cost of a new grill, it's likely that implementation of Trump's proposed tariffs on Chinese finished goods would eventually see prices go up.
To Learn More
Want to learn more about tariffs and the industries they'll impact the most? Download the Freedonia Group's new white paper for the latest insights from experts.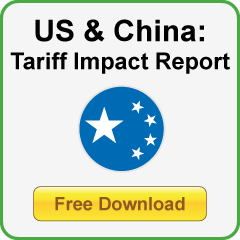 About the Author
Matt Breuer is an industry analyst at the Freedonia Group, where he writes industry studies focused on the US consumer goods markets.