A sort of shell game is playing out in global supply chains as companies seek ways to avoid getting caught in the crossfire of the trade war, usually by employing one of three strategies:
transshipments
intra-company supply-demand rearrangements
move production capacity to another country due to US or retaliatory tariffs
Around the World & Back Again
Transshipment logistics providers (a.k.a., freight forwarders or re-exporters), such as Settle Logistics, can help companies skirt the trade war by landing goods in intermediary countries and re-exporting the goods to their final destination, making them appear as though they're from a neutral source country. While the act of landing subjects goods to the import duties of the intermediary country – in addition to the duties and extra shipping costs of re-exporting the goods to the US – the total expense may be low enough compared to trade-war-impacted channels to justify the hassle.
However, there are limits to what transshipments can accomplish, particularly because goods must bear country-of-origin marks. Therefore, the effectiveness of re-exports in bypassing the trade war depends on a company's willingness to engage in false or misleading product labeling practices. Somewhat more legitimate options do exist, though. For example, some companies arrange for the final stages of production to occur in intermediary countries.
The Multinational Advantage
With production capacity around the world, many multinational corporations have great flexibility in eluding the effects of the trade war – as do companies with supplier agreements or potential supplier availability in countries with low-cost labor.
For instance, Volvo announced it will supply its XC60 SUVs to the US market from its factory in Europe instead of China. Similarly, Levi's, the popular maker of jeans, plans to sell US consumers jeans made in Vietnam if tariffs are imposed on clothes, and sell the jeans it makes in China to Mexican consumers.
Of course, multinationals still face challenges from the imposition of tariffs. For example, the inefficiencies inherent in mismatched supply and demand geographies (e.g., atypical freight costs and suddenly irrational installed-capacity) are bound to cause headaches.
The Nudge They Needed
Indeed, freight costs and capital equipment outlays can make transshipment and supply-demand swaps impractical. In yet other cases, country-of-origin is too obvious to disguise. For instance, there's no way to hide that a Harley-Davidson motorcycle or Tesla automobile is made in the US, as these products are currently made nowhere else. Due to such factors, many companies have announced that they are moving production capacity to other countries.
For example, toy-maker Hasbro announced in July 2018 that it would move production out of China due to the US-China trade war. Furthermore, two US sellers of home furniture and furnishings, RH (also known as Restoration Hardware) and At Home Group, have announced intentions to reduce sourcing from China. Similarly, JinkoSolar, a Chinese solar panel producer, announced in January 2018 plans to open a facility in the US in response to the Trump administration's 30% tariff on solar panels.
However, it's worth remembering that moves like these have often been on a company's drawing board for some time, and that a trade spat simply gives the extra push to follow through.
For example, Foxconn, the Taiwanese electronics powerhouse known for its China-based production facilities, has had plans to build in India and the US for years. In July 2017, the company announced it was stepping up its plans to build in India after the country imposed an import duty on phones and components. By then, many companies had already begun the process of diversifying their supply chains or relocating production capacity due to rising Chinese wages and increasing intellectual property fights.
Trade War Hustle
The escalating trade war between the US and China is continuing to drive an evolution in the way corporations think about supply chains in China. Such concerns began to gain traction a few years ago, as Chinese wages were rising (along with production costs) and companies were reevaluating sourcing strategies. But the imposition of tariffs - which were catalyzed in part by US concerns about its trade deficit with China, as well as China's growing technological ambitions – is causing an acceleration in this supply chain culture change.
In response to the Chinese government's goal to boost production of high-tech goods under its Made in China 2025 initiative, the US enacted tariffs and attempted to limit the participation of Chinese technology companies in the US market, hoping to ameliorate the potential negative effects of competition from China.
However, efforts to limit the impact of China's growing capabilities on the US technology sector is causing upheaval in the supply chains of many other industries. And it remains to be seen whether tariffs can even effectively countervail China's unfair trade practices – the primary goal of US initiation of this trade war – which include (among other things):
currency manipulation
forced technology transfer
government financed acquisition of competitors
intellectual property theft
The next step in negotiating a deal may come when the US and Chinese presidents meet in a multilateral summit in November. Much can happen in the meantime, of course. But one constant is expected: technology will continue to be a major sticking point for both countries.
To Learn More
Want to learn more about tariffs and the industries they'll impact the most? Download the Freedonia Group's new white paper for the latest insights from experts.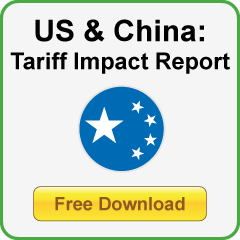 About the Author:
Freedonia Focus Reports publishes short-format market research reports that provide reliable, unbiased insights on a wide variety of markets and industries. The Focus Reports collection comprises over 600 topics across two major geographic collections and several industry verticals.