One of the goals of the Trump administration's trade war with China is to countervail poor intellectual property (IP) protections in that nation. As US markets for goods of all kinds depend heavily on Chinese production – due primarily to lower labor costs there – the hope is that slapping duties on key imports from China will reduce US demand for Chinese goods and stimulate domestic manufacturing.
Another goal is to undermine the Chinese government's "Made in China 2025" initiative, which aims to make the nation the global leader in advanced technologies. Although many of the proposed or enacted tariffs affect goods that are not particularly high-tech, their primary aim is to give US producers of advanced technologies a continued competitive edge.
Cree is at the forefront of innovation in semiconductor technologies, including light emitting diodes (LEDs) and power semiconductors. And yet Cree has denounced the effect of trade actions on its business, insisting that Trump's trade war with China will only serve to diminish their competitive edge, providing Chinese competitors the opportunity to surpass US innovation.
Cree Speaks up in Opposition to Tariffs on LEDs, Power Semiconductors
As the US Trade Representative (USTR) has conducted hearings on its successive proposals for tariffs on Chinese imports, Greg Merritt – Vice President of Marketing and Public Affairs for Cree – has addressed the committee on two occasions, exhorting the Trump administration to rethink its proposals.
Particularly, Merritt asked for exemptions for HTS 8541.4020 and HTS 8541.10.00. These codes cover:
LEDs
materials that contain LEDs (e.g., LED wafers, chips, and other components used in myriad lighting applications, such as general purpose lighting, displays, backlighting, and indicator lights)
other diodes that Cree uses in its Wolfspeed silicon carbide (SiC) power semiconductors (which are used in such applications as electric vehicles manufacturing and charging stations, solar power converters, energy storage, and computing and industrial power supplies)
Forging ahead, the Trump administration nevertheless denied these requests, implementing 25% tariffs on some of the above products in a first round on July 6 and the remainder in a second round on August 23.
Rather than helping to protect Cree's IP and leading position in high-tech markets, however, Merritt insists that the proposed tariffs on these products will bring adverse effects, including:
slowing Cree's R&D, since production costs will rise
raising the prices of Cree products, which will make foreign suppliers more competitive
allowing China to catch up in its technological advancement
Cree's Supply Chain Practices Protect IP Sans Tariffs
Although Merritt acknowledges the need to curb Chinese theft of US IP, he also stresses that tariffs are not the appropriate means to that end. Take for example Cree's supply chain, which is structured to closely guard its cutting-edge IP and thereby protect its competitive edge. According to Merritt:
About 70% of the value of Cree's LED components is based on IP.
The company has invested $1.3 billion into R&D in the last ten years.
Cree maintains about 2,200 US patents.
Cree's LEDs are top-of-the-line – of higher quality than most Chinese-made LEDs – and silicon carbide semiconductor manufacturing so far has not been developed in China. Therefore, the company goes to great lengths to protect its IP.
Its R&D and high-tech production takes place in its Durham, NC facility, and even within the company IP is shared only on a need-to-know basis. It owns a facility in China for final packaging of its LEDs and Wolfspeed semiconductors – processes that are relatively simple and do not require Cree's proprietary technologies. These operations also provide a means to easily reach the Chinese market (nearly half of the company's power semiconductors are sold within China).
To Learn More
Interested in a deeper dive into tariffs and the industries they'll impact the most? Check out the Freedonia Group's new white paper for the latest insights from experts.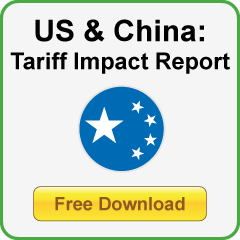 About the Author:
Matt Breuer is an industry analyst at the Freedonia Group, where he writes industry studies focused on the US consumer goods markets.