On August 23, 2018, the Trump Administration imposed new tariffs on $16 billion worth of Chinese goods, including chemicals used in the production of foamed plastic insulation. These chemicals are expanded polystyrene (EPS) and extruded polystyrene (XPS), the latter of which is better known by the brand name STYROFOAM. Like the other goods covered by these new tariffs, imports of EPS and XPS from China are subject to a 25% tariff. According to the US Trade Commission, China was the fifth largest foreign source of EPS and the seventh largest foreign source of XPS to the US in 2017.
End Users Likely to Absorb Higher Raw Material Costs
The immediate impact of these tariffs is expected to be an increase in the price of polystyrene foam insulation in the US. This would be detrimental to the US industry in the short-term as foamed plastics are already the most expensive of the major insulation materials. A price increase may cause some homebuilders and commercial building contractors to replace foamed plastic insulation with less expensive products.
Demand for EPS and XPS insulation has been growing at a pace well above the market average for the last few years. Due both to probable price increases and overall uncertainty in the chemical industry as a result of the US-imposed tariffs, producers of both EPS and XPS insulation can expect a slowdown in market growth in the near-term; however, it remains to be seen how the US market will ultimately respond to the tariffs.
Tariff Threat Looms for Other Insulation Materials
Other major insulation materials – including fiberglass, mineral wool, and cellulose – are not directly affected by the August 23 round of US-imposed tariffs on Chinese goods. This should allow these materials, particularly mineral wool and fiberglass, to gain market share from foamed plastics in both residential and commercial markets – at least in the short term.
Looking ahead, however, these materials are not out of the woods yet. The day before the foamed plastic tariff took effect, the White House threatened to impose still more duties on an additional 6,000-plus items imported from China, including fiberglass and mineral wool insulation. If enacted, this could lead to higher prices for these products, ameliorating the likely negative effect of EPS and XPS price hikes on foamed plastic insulation demand.
To Learn More
Want to learn more about tariffs and the industries they'll impact most severely? Check out the Freedonia Group's white paper US & China: Tariff Impact Report for the latest insights from experts.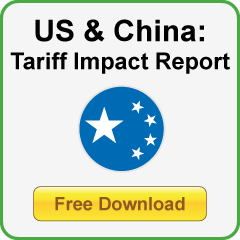 About the Author:
Matthew Hurley is an industry analyst at the Freedonia Group, where he writes studies focused on the US polymers and materials products markets.