Sales of general purpose lighting fixtures dipped in 2020 as the COVID-19 pandemic took a major toll on construction – especially the commercial building sector, which accounts for more half of lighting demand in any given year. Preventing a gloomier 2020, the residential market actually ended the year up over 2019 levels:
The new residential market was negatively affected by a significant drop in new home completions in the first few months of 2020 due to economic uncertainty and concerns over building material supply chain disruptions.
However, the new housing market began to recover as the year progressed – with new home construction especially strong in the South despite a drop in housing starts in January – supporting growth in residential sales of lighting fixtures.
Additionally, a spike in home improvement activity amid the pandemic boosted residential demand for lighting fixtures, though the number of DIY projects is expected to dwindle back to normal levels as the pandemic recedes.
A new Freedonia Group analysis projects US sales of general purpose lighting fixtures to rise 3.7% annually to $26.8 billion in 2024. Though demand in the commercial building market is expected to rebound in 2021 and account for about half of total demand gains through 2024, a number of trends are propelling accelerated growth in the smaller residential market.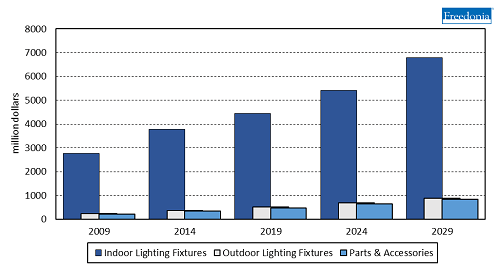 Efforts to Control Energy Costs to Support Residential Lighting Demand
Like many commercial building owners, homeowners are also focused on reducing their utility bills, including through the use of energy-efficient lighting fixtures such as LEDs, which require less wattage than traditional bulbs, and are typically initially more expensive than traditional lighting.
Although LEDs are gaining share in many applications, fluorescents and HIDs remain resilient in the applications where they are preferred for their ability to offer specific performance advantages. Bulbs used for these purposes – such as high-impact types – tend to be higher value, specialty products that are resistant to downward pricing pressure.
Homeowner Interest in Outdoor Living to Boost Gains
Demand for outdoor lighting fixtures is expected to grow at a faster rate than indoor or specialty fixtures through 2024, boosted by rising homeowner interest – and investment – in outdoor living, both of which spiked during the COVID-19 pandemic:
Investment in outdoor entertaining areas increased during the pandemic, as many homeowners sought to make their homes a more appealing place, particularly as the closure of restaurants, bars, and more limited options for entertainment outside the home.
In order to create outdoor areas more suitable for cooking and entertaining, many homeowners installed more extensive and higher-end lighting fixtures – such as area lighting and floodlights, many of which are motion-activated and can be adjusted remotely.
Already a fast-growing market prior to the pandemic, outdoor living will remain a key niche of the general purpose lighting market. Even as the pandemic recedes, homeowners who invested in their outdoor spaces are likely to continue to invest in them going forward, and interest in outdoor living – as well as the latest, convenience- and energy-efficiency-enhancing lighting products – will continue to rise.
Smart Lighting to Provide Demand Growth Opportunities
While smart lighting does not account for a major share of residential lighting fixtures demand, it is expected to record strong gains through 2024. The rising adoption of smart lighting in homes will be driven by in its technologically advanced capabilities, which both increases the convenience and capabilities of lighting and can further improve energy efficiency:
Wireless functions that allow for lighting fixtures to be controlled from any place where the internet can be accessed allow homeowners to adjust lighting from anywhere, such as to keep the house appearing occupied while on vacation and to check if lights were switched off while at work.
Voice control features allow users to adjust such features as light brightness and color without the need for switch or remote.
Sales of consumer smart lighting will continue to grow rapidly as household adoption increases steadily and existing smart lighting households incorporate additional smart lighting products into their smart home systems.
Want to Learn More?
General Purpose Lighting Fixtures is now available from the Freedonia Group.
About the Author:
Peter Kusnic is a Content Writer with The Freedonia Group, where he researches and writes studies focused on an array of industries.