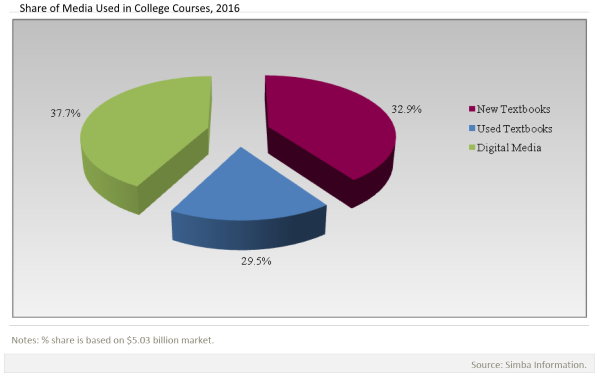 New print textbooks are no longer the dominant format of higher education course materials. Simba Information estimates that printed textbook sales account for a dwindling but still hefty share of overall new course materials sales, and publishers confirm new print textbooks are not the preeminent driver of sales anymore. However, textbooks in print format continue to be popular with students and keep the rental and used textbook markets afloat. These trends and more are discussed in Simba's new report, State of College Course Materials 2016-2017.
Digital Media Secures its Foothold 
In terms of the overall market for higher education course materials, Simba estimates that sales of digital media accounted for 37.7% of the total market. Simba estimates the print media share of new and used course materials was 62.3% of the total market in 2016.
2016 was not a strong year for front lists—or new editions. The lack of new editions depresses sales of print textbooks as students turn to rentals and the used-book market. While students may continue to prefer print textbooks, they do not necessarily purchase new print textbooks.
Changing Sales Models 
Two developments in 2016 and into 2017 have taken on new energy in the distribution section of course materials: the rise of publishers' e-commerce activity and the bookstores drive to become the dominant distribution channel for open educational resources (OER). 
Ordering was confused as stores re-estimated needs for course materials. Publishers' net revenue suffered as gross sales fell and returns rose. 
Continuing enrollment decline and inventory correction by retailers all played a role in the reduced results in 2016
Counterfeit and pirated textbooks are a lingering industry issue; U.S. publishers have pursued counterfeit textbook distributors and sellers since at least 2007, typically suing online-based operators selling lower-cost foreign editions of textbooks. 
Despite their declining sales, printed textbooks remain popular with students, and remain important among course material publishers' retinues in an increasingly digitizing market environment. 
Future of the College Instructional Materials Market
Digital resources seem to be the industry's future, though a total digital transition remains rocky. To drive digital sales, publishers aim aim to create learning environments that help students succeed, particularly through adaptive programs.  Technology-enabled education has been one of the market's most notable growth areas.
The percent of undergraduate and graduate students taking classes as distance learning has risen from 28.5% in fall 2014 to 29.8% in fall 2015, according to the National Center for Education Statistics.
Among students taking at least one distance education course in fall 2015: 
More than two-thirds (67.8%)  were enrolled at a public institution.
14.5%  were enrolled in for-profit institutions.

More than half were at four-year institutions.
Distance learning proponents assert that online course are already entrenched in higher education. However, just 2.1 million undergraduate students (12.3% of enrolled undergraduates) took classes exclusively online in fall 2015, slightly up from 12.1% in fall 2014. 
State of College Course Materials 2016-2017  is the first of a two-part series focusing on the market landscape and competitive environment for publishers and distributors of instructional resources for college programs.