In the US, steel is primarily produced in either basic oxygen furnaces (BOFs) or electric arc furnaces (EAFs). Of the approximately 80 million metric tons of raw steel produced in the US in 2016, 67% of it was created in EAFs, with 33% coming from BOF facilities. EAFs share of steel production reached an all-time peak in 2016. In fact, back in 2000 EAFs accounted for less than half of domestic production. In the US in 2016, of some 119 steel mills operated by 56 companies, 108 utilized EAF technology.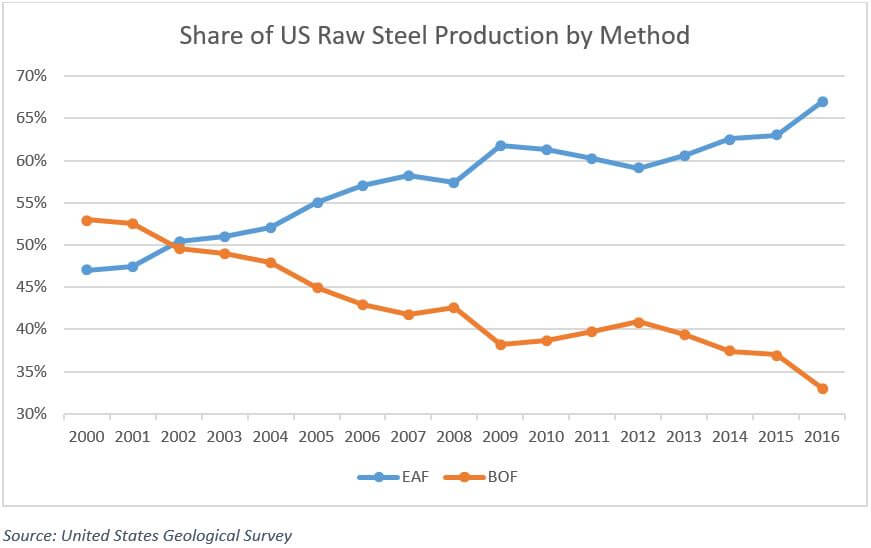 EAFs allow steel producers to take advantage of relatively cheap steel scrap available in the US. While producers are able to mix some scrap into the steel being produced in BOFs, the ratio is limited: raw material for steel made in BOFs averages only around a quarter scrap. In comparison, the recycled content of steel produced via the EAF method averages 90%, though it can be up to 100%. However, some users of EAFs are referred to as "integrated mini mills" and utilize direct-reduced iron to produce steel. These suppliers have benefited by supplying more higher-end products through the addition of raw iron ore to their production process.
The US steel industry has steadily increased the use of EAF technology over the past few decades, as it provides several advantages over production from BOFs. EAFs are used primarily in "mini mills", which require lower capital expenditures and fixed operating costs in comparison to integrated steel producers. EAFs provide producers with more agility in reacting to market conditions, as EAFs can produce steel in smaller volumes and can be stopped and started quickly.
EAFs have provided members of the US steel industry a low-cost and highly flexible configuration. In a market environment plagued by oversupply and uncertainty, these characteristics have helped EAFs become the primary method of steel production in the US over the past decade and a half.
Learn More
For more insights into the US steel market and industry, see Steel Mill Products: United States, a report recently released by the Freedonia Focus Reports division of The Freedonia Group. The report includes US steel mill product demand segmented by type in 2006-2016 historical series with forecasts to 2021. Steel mill products are segmented by type in terms of:
hot-rolled sheet
bars
hot-dip galvanized sheet and strip
plates
cold-rolled sheet
pipe and tubing
heavy structural shapes
other products.
Total demand is also segmented by market as follows:
metal service centers and distributors
construction
motor vehicles
other markets.
Other related reports include Fabricated Metal Products: United States, Metal Stampings: United States, Motor Vehicles: United States, and Construction: United States.
About the Author
Luke Hickman is a Market Research Analyst for Freedonia Focus Reports. He holds a degree in economics, and his experience as an analyst covers multiple industries.
 .