Consumers showed an increasing preference for toaster ovens – not to be confused with toasters – over the 2007-2017 period due to the convenience they provide in meal preparation. The affordability of these products also supports sales, as does the wide variety of top rated products with useful features.
Recent Demand Trends
Toaster ovens are small electric ovens that can be used for a wide variety of purposes, including baking or toasting. They are not as widely owned as some more ubiquitous small kitchen appliances, such as toasters, thus creating an opportunity for expansion that suppliers exploited over the 2007-2017 period. Furthermore, space-constrained places like kitchenettes, such as those found in offices, multi-family housing, and recreational vehicles, represent a traditionally important market for toaster ovens, providing another avenue for demand growth. Sales of toaster ovens saw average annual gains of 7.3% over the 2007-2017 decade, representing one of the best performances among the discrete demand segments of small kitchen appliances.
Manufacturers have continued to introduce models offering additional features and better performance, further attracting the notice of consumers. For instance, on its US website Hamilton Beach Brands offers a toaster oven with convection and rotisserie for $80 (as of August 2018). In particular, the availability of the convection feature has helped increased the popularity and desirability of toaster ovens, as it adds the capacity to cook many items. Some suppliers are offering toaster ovens featuring convection and air fryers to help capitalize on the popularity of standalone air fryers.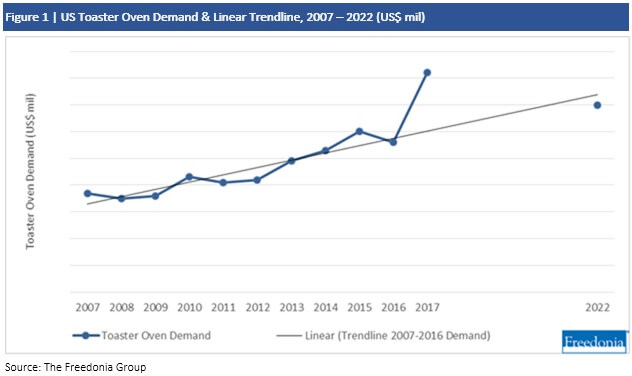 Prospects for the Future
Demand for toaster ovens is projected to fall to 2022. The decline is attributable to the expected return to trend in 2022 relative to above-average levels in 2017. While other years over the 2007-2017 historical period also saw strong gains – sales rose rapidly in 2010 (in part due to the recovery from the 2007-2009 recession), 2013, and 2015 – 2017 experienced the strongest growth. Demand in 2022 is not expected to remain at such elevated levels. However, when compared to the 2007-2016 period, demand in 2022 represents continued growth, albeit at a slower pace as the favorable trend toward this product matures.
Learn More
For more insights into the US small kitchen appliances market, see Small Kitchen Appliances: United States, a report published by the Freedonia Focus Reports division of The Freedonia Group. This report forecasts to 2022 US small kitchen appliances demand and shipments in nominal US dollars at the manufacturer level. Total demand is segmented by product in terms of:
coffee and tea makers
mixers and blenders
toaster ovens
small cooking appliances such as electric griddles, grills, hot plates, rice cookers, roasters, and sandwich makers
grinders and processors
toasters
juicers
other small kitchen appliances such as bread makers, electric can openers, slow cookers (or crock pots), and pressure cookers, as well as parts
To illustrate historical trends, total demand, total shipments, the various segments, and trade are provided in annual series from 2007 to 2017.
The scope of this report includes household-type electric small kitchen appliances. Manual products are excluded (e.g., manual grinders). In addition, home ice cream makers, home soda makers, microwaves, and vacuum sealers are excluded from the scope of this report. Appliances designed for commercial or industrial use are also excluded. Re-exports of small kitchen appliances are excluded from demand and trade figures.
Related Focus Reports include:
About the Author
Leon Mengri is a Senior Market Research Analyst with Freedonia Focus Reports. He conducts research and writes a variety of Focus Reports, which offer concise overviews of market size, product segmentation, business trends, and more.