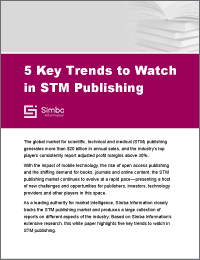 Scientific, technical and medical (STM) publishing continues to evolve at a rapid pace alongside the rise of the open access movement, the impact of mobile technology, and the shifting demand for books, journals and online content. Industry players must continue to monitor the latest trends and readjust their business strategies to stay relevant and succeed in this market over the long term.
Drawing on Simba Information's extensive research on the global professional publishing market, this white paper highlights five key trends to watch in STM publishing.
Fill out the form to download your free white paper today.