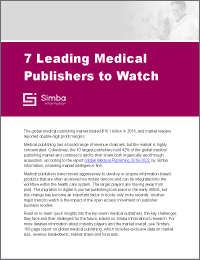 Leading medical publishers posted double-digit profit margins in 2018. Although the $10.1 billion market for medical publishing offers a broad range of revenue channels, competition remains fierce.
Medical publishing companies must continue to evolve to protect and grow their market share, navigate the impact of the open access movement and succeed in an increasingly mobile, digital world.
Based on Simba Information's report Global Medical Publishing 2019-2023, this white paper highlights the top seven medical publishers, the key challenges they face and their strategies for the future.
Fill out the form to download your free white paper today.