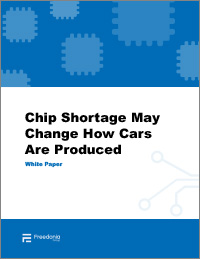 Semiconductor chips are in short supply due to an unprecedented chain of events. This is causing a ripple effect throughout the global automotive industry that may impact not only what vehicles are produced in the future but also where new chip manufacturing is located.
This white paper explains what triggered the chip shortages, the fragility of current supply chains, and plans for new US semiconductor production. In addition, the white paper discusses how the automotive industry may adapt and shares Freedonia's latest vehicle production forecasts.
The white paper was written by Teresa Hayes, Vice President of Publishing at The Freedonia Group, and draws on expertise from Freedonia's Chief Economist Thomas Bowne and Operations Manager Matthew Rolfe of Freedonia Focus Reports.
Fill out the form to download your free white paper today.