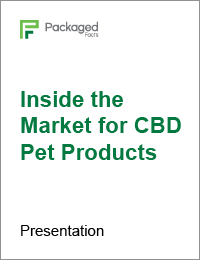 In this Q&A interview, Honest Paws, a CBD (cannabidiol) pet product company, offers an insider's perspective on a highly competitive market segment that is both increasingly popular and frequently misunderstood.
Since its founding, Honest Paws has established a reputation as a leader in educating consumers about CBD and how it impacts health as a homeopathic remedy for pets' physical and emotional conditions. In speaking with Packaged Facts, Honest Paws:
dispels myths ("CBD will not get your pets high"),
discusses which CBD products are most popular with pet parents,
reveals which conditions pet owners seek to treat when turning to CBD products,
emphasizes why consumer education is essential to gaining wider acceptable for CBD products,
predicts the future of the CBD pet product industry, and
postulates which other underutilized natural and homeopathic ingredients could become popular in the coming years.
Featured also in this presentation are findings from Packaged Facts' April 2019 report, Pet Supplements in the U.S., 7th Edition (see the updated report, Pet Supplements in the U.S., 9th Edition.). This includes Packaged Facts' consumer survey findings on pet owners' attitudes about and usage of CBD products for dogs and cats.