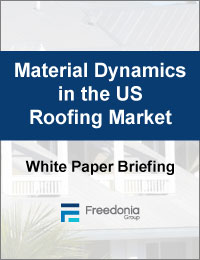 Roofing in the US sees varying levels of consolidation—by suppliers, product segments, distributors, and materials. While the most used roofing material in the US is asphalt, other materials see significant use cases, have unique market dynamics, and may be the focus of specialized producers, installers, and applications.
Some of those material categories are:
Plastic (used in roof membranes)
Concrete (used in roof tiles)
Metal (used in roof panels, tiles, shingles, and shakes)
Rubber (used in roof membranes)
Wood (used in roof shingles and shakes)
Fill out the form to download your FREE white paper briefing and learn more about this flagship Freedonia research area today.