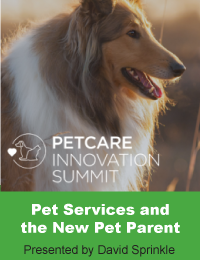 Packaged Facts' "Pet Services and the New Pet Parent" presentation at the Petcare Innovation Summit 2021 in Boston, Massachusetts takes a generational look at dog and cat owner use of both veterinary services and of non-medical pet care services such as grooming and boarding, with a focus on Millennials and Gen Z.
Drawing on Packaged Facts' Pet Services in the U.S. (October 2021), this PowerPoint deck of presentation highlights touches on pet care service usage rates, pet parent priorities for pet wellbeing, and awareness of pet ownership benefits for personal physical and mental health.
Fill out this form to download this free resource today.