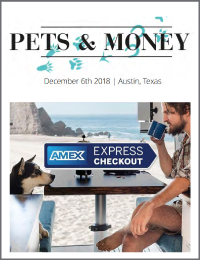 Where pet parents go, the money will follow.
The U.S. pet industry has long been rife with opportunity and dynamism as industry players continuously innovate to stay ahead of the pack. The competitive jockeying has created two overlapping trends that heavily influence the infusion of new products and services in this multi-billion dollar market: humanization and premiumization.
David Sprinkle, research director for Packaged Facts, is convinced that humanization—especially as it manifests in the "pets as family" trend—is directly responsible not just for pet owners' desire to pamper their pets but also in their heightened commitment to pet health. Looking ahead to 2019, health-focused products will remain at the leading edge of the humanization and premiumization market trends.
Sprinkle discussed these trends, among others, at the Pets & Money Summit, held December 6, 2018 in Austin, TX. Packaged Facts has now made highlights from his presentation available to the public.
Fill out the form to download the free presentation.