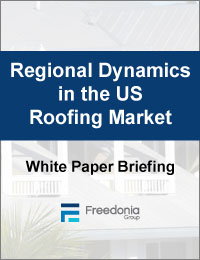 The US roofing market is not a monolith. Rather, it contains–and aggregates–several regional geographic markets:
The Northeast region of the US includes states in the New England (Connecticut, Maine, Massachusetts, New Hampshire, Rhode Island, and Vermont) and Middle Atlantic (New Jersey, New York, and Pennsylvania) subregions
The Midwest region of the US includes states in the East North Central (Illinois, Indiana, Michigan, Ohio, and Wisconsin) and West North Central (Iowa, Kansas, Minnesota, Missouri, Nebraska, North Dakota, and South Dakota) subregions
The South region of the US includes states in the South Atlantic (Delaware, Florida, Georgia, Maryland, North Carolina, South Carolina, Virginia, West Virginia, and the District of Columbia), East South Central (Alabama, Kentucky, Mississippi, and Tennessee), and West South Central (Arkansas, Louisiana, Oklahoma, and Texas) subregions
The West region of the US includes states in the Mountain (Arizona, Colorado, Idaho, Montana, Nevada, New Mexico, Utah, and Wyoming) and Pacific (Alaska, California, Hawaii, Oregon, and Washington) subregions
Each of these regions has unique characteristics and market dynamics, which we highlight in this white paper briefing. Fill out the form to download your FREE copy to learn more about this flagship Freedonia research area today.