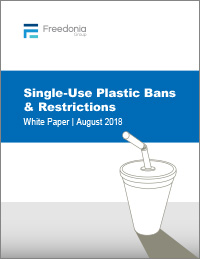 An international movement to ban or restrict not just plastic straws, but all plastic single-use products, is gaining momentum. Corporate giants like American Airlines, Disney, and Starbucks have announced bans on plastic straws and other single-use products, and cities and even whole countries are taking steps to reduce if not completely eliminate further accumulation of plastic waste in landfills over the coming years.
Freedonia's white paper explores the global ramifications of single-use plastic bans sweeping the globe.
Fill out the form to download your FREE white paper today.