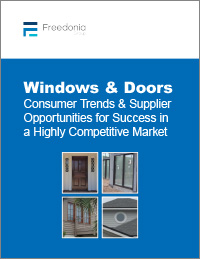 US demand for windows and doors is forecast to grow 4.8% annually to $34.3 billion in 2021. The residential market is expected to offer the best growth opportunities for the country's window and door producers, due to a combination of favorable housing trends and consumer preferences for higher quality—and more expensive—products.
Key market growth drivers include:
ongoing strength in housing activity
rising home values and improving access to home equity loans that support renovation spending
expanding sales of premium windows and doors featuring improved energy efficiency and durability (including impact resistance)
rising sales of value-added windows and doors with improved aesthetics and unique stylistic elements
Fill out the form to download your FREE white paper and learn more about this lucrative industry today.