A 3D Printer in Every Home Office…or Not
In the early days of desktop 3D printers, many thought that every household in the US would soon own one of these versatile machines. Instead of going to the store for cheap plastic goods or ordering expensive replacement parts, consumers would print many of these things at home, creating everything from custom cookie cutters to car parts.
This has yet to happen. Early desktop 3D printers were expensive, slow, and not terribly user friendly, requiring expertise in manipulating CAD files to produce anything useful. Today's desktop 3D printers from companies such as MakerBot and XYZprinting are a significant improvement, but the cost and learning curve associated with 3D printing at home remains a turnoff for all but the most intrepid hobbyists, comprising less than 10% of desktop printer sales worldwide.
Libraries and Schools Boost Interest
Instead of individuals, educational institutions such as libraries, schools, and universities have unexpectedly become a booming market for 3D printers, accounting for over $500 million in sales of printers, materials, and software in 2016. Libraries looking to give themselves an edge in the era of digital books and schools eager to train their students in a key piece of equipment for tomorrow's factories have caused a surge of demand for desktop 3D printers in recent years.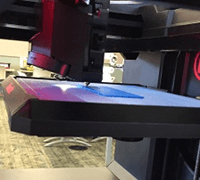 Schools, particularly those in the US, are becoming key customers for 3D printers and materials, due to a recent focus on STEM education that has increased interest in all manner of technology learning tools. China is also a booming market for 3D printers used in schools, with plans to install 3D printers in all of its elementary schools.
The earlier children learn to use 3D printing technology, the more easily they can integrate it into their thinking when they eventually enter the workforce. Major 3D printer suppliers agree and are working hard to close the future skills gap for additive manufacturing specialists.  GE, for instance, has created the GE Additive Education Program, which distributed printers to 400 schools in 2017.  This will potentially allow more than 180,000 students at all levels of education to have access to 3D printers.
Can You Really 3D Print at Your Local Library?
After spending months researching and writing Freedonia's Global 3D Printing Markets study, my interest was piqued, so I ventured to my local library to see what all the fuss was about. I was able to submit a file via a form on the Cuyahoga County Library's website, and the friendly librarians handled the printer for me. With relatively little effort, and only $1.80 spent on materials provided by the library, I was able to create my very own Freedonia logo.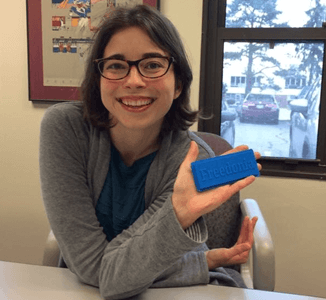 Efforts by educational institutions to help consumers try out 3D printing will likely benefit the industry in the long run. Now that I've seen what entry level 3D printers are capable of in 2017, I feel more comfortable with the idea of 3D printed shoes, airplane parts, and other products making their way into this American consumer's life in the not-too-distant future.
Want to Learn More?
Interested in educational and other short and long term 3D printing opportunities? Check out the recently published Global 3D Printing Markets study by the Freedonia Group.
About the Author
Zoe Biller is an Industry Analyst at the Freedonia Group where she develops and writes reports on the global chemicals, capital goods and polymers & materials markets.