For the metal stamping industry, automotive manufacturing is the leading market, accounting for nearly 80% of demand in 2016. However, this market is expected to be tepid, prompting the industry to look elsewhere for growth.
Durable Goods Manufacturing Provides Opportunity for Lasting Gains
The good news is that shipments of non-motor-vehicle durable goods are expected to rise faster than motor vehicles and parts shipments. This gives metal stampers opportunities to expand in other markets, such as computers and electronics, furniture, and appliances.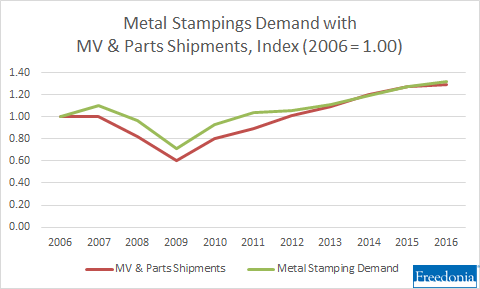 Plastic Materials Move in on Metal's Territory
The bad news is that plastics are also on the rise. Composite materials such as carbon fiber reinforced plastics (CFRP) are taking market share from steel and other metals in applications where material weight plays an important factor, such as in motor vehicles. Motor vehicle producers have been improving fuel efficiency by reducing vehicle weight, and this trend is expected to continue. For instance, the BMW 7 series of vehicles features CFRP that strengthens metal components in the passenger compartment while decreasing weight. However, composite parts are more expensive than metal parts, so metal (especially lightweight aluminum) is still the primary material for many motor vehicle parts. As composites continue to become less expensive, they will take further market share away from metal stampings.
Want to Learn More?
For in-depth analysis of metal stamping trends, see Metal Stampings: United States, a report published by the Freedonia Focus Reports division of The Freedonia Group.
This report contains historical data and analysis of metal stampings demand in nominal and real (inflation-adjusted) terms from 2006-2016 with projections to 2021. Demand is segmented by type as follows:
motor vehicle stampings
job stampings
end products
metal spinning products.
While you're there, you can check out related reports such as Sheet Metal: United States and Fabricated Metal Products: United States.
About the Author
Cara Brosius is a Research Analyst with Freedonia Focus Reports. She holds a degree in economics, and her experience as an analyst covers multiple industries.