Municipal solid waste (MSW) presents two major challenges for municipalities: collection and management. Over the past few decades, many cities have addressed collection by outsourcing it to firms like Waste Management, Republic Services, and Waste Connections. The management of MSW, which traditionally consisted of landfilling, increasingly broadened in scope to include recovery; that is, recycling or burning waste for energy in waste-to-energy (WtE) operations.
Waste recovery became increasingly important in the management of MSW because:
landfill space is sparse
municipalities – with ever tighter budgets – seek to avoid landfill tipping fees
landfills pose environmental risks.
Municipalities Target Food Waste for Recovery Efforts
As MSW recovery rates appear to be stagnating due to various factors, but MSW generation volumes continue to grow, many municipalities are targeting food waste. In 2016, food waste represented 16% of total MSW generation – the fourth largest category, but 23% of discarded waste – the second largest category. Further, food waste features by far the lowest recovery rate of all the major categories. Thus, targeting food waste presents a significant opportunity for municipalities to save on landfill tipping fees and to reduce the amount of waste going to landfills.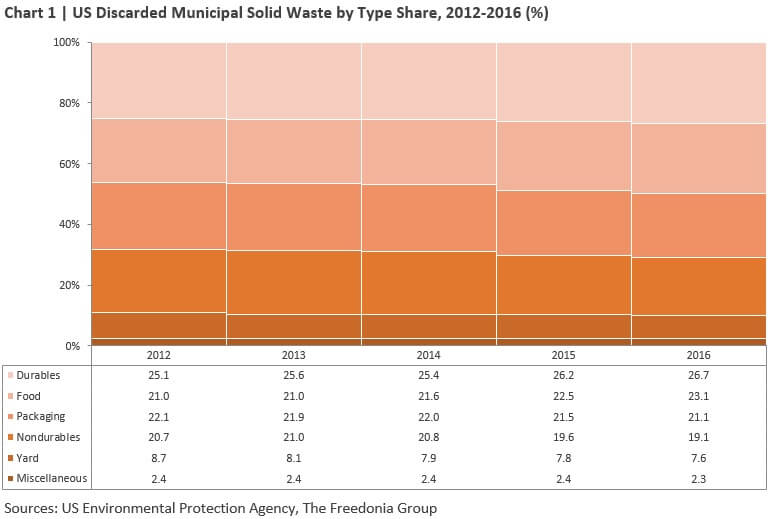 The Expansion of Municipal Programs for Food Composting
Food waste recovery efforts consist of composting at the source of generation (ie, in the yards of homes or businesses) or commercial composting, where municipalities or businesses arrange for a waste management firm to pick up food waste as they collect garbage and recycling, and send it to a composting facility.
States and cities around the country are studying and implementing residential and commercial food waste collection programs. For instance, the city of New York began a pilot project in 2013 and continues to increase the number of participating households and institutions. As of fall 2015, the program served about 210,000 households and 40% of public schools. The city expects that by the end of 2018 all residents will have access to either curbside collection or neighborhood drop-off sites.
Further, as of January 2017, California requires businesses to arrange organic waste recycling services if they generate four cubic yards or more of organic waste per week. In addition, Connecticut, Massachusetts, Vermont, and Rhode Island, along with the cities of Seattle, Washington; New York, New York; and Portland, Oregon, enacted commercial food disposal bans between 2014 and 2016, essentially requiring businesses to arrange for food waste collection (and composting) services.
Learn More
For more insights into the US MSW industry, see Municipal Solid Waste: United States, a report published by the Freedonia Focus Reports division of the Freedonia Group. The report covers US generated, recovered, and discarded MSW in short tons over the 2006-2016 historical period and forecasts to 2021. MSW generated, recovered, and discarded are each segmented in terms of:
packaging
durables
nondurables
food
yard
miscellaneous inorganics (generation and discarded only).
Other relelated Focus Reports include Recovered Packaging: United States, Recovered Metals: United States, Recovered Glass: United States, and Waste Management: United States.
About the Author
Leon Mengri is a Senior Market Research Analyst with Freedonia Focus Reports. He conducts research and writes a variety of Focus Reports, which offer concise overviews of market size, product segmentation, business trends, and more.