The COVID-19 pandemic had a severe impact on the $32 billion global market for commercial refrigeration equipment, with an 11% sales decline recorded in 2020 and continuing weakness anticipated in early 2021. Demand is expected to rebound in 2022 as things return to normal in the food and beverage industry – especially in the foodservice sector, which experienced especially intense disruption due to the pandemic.
Despite the pandemic's harsh near-term impact, however, it did create some market opportunities. For instance, most available COVID-19 vaccines developed must be refrigerated or kept at ultra-low temperatures, boosting related pharmaceutical refrigeration equipment sales.
But a more significant long-term effect is expected from trends the pandemic is accelerating – such as online food delivery and curbside grocery pickup – that support growing use of advanced refrigeration technologies in mature markets, such as the US, Japan, and Western Europe.
The Rise of Online Food Delivery Is Driving Investment in Cloud Kitchens
During the COVID-19 pandemic, use of online food delivery platforms skyrocketed, driving foodservice establishments to expand their digital presence and recalibrate their brick-and-mortar strategy. Unable to operate as usual during the pandemic, restaurants began experimenting with an inchoate concept, introduced in 2017 by UK-based Deliveroo: cloud kitchens, which are essentially back-of-house-only restaurants exclusively dedicated to producing and dispatching meals ordered online.
Companies involved in food delivery and operators of cloud kitchens use a wide range of commercial refrigeration equipment and have provided impetus for growth in a number of markets in recent years. As demand for food delivery services grows – aided by health concerns relative to the COVID-19 pandemic and evolving consumer preferences – these firms will build new facilities, upgrade existing sites, and invest in new refrigeration machines.
Curbside Pickup Is Here to Stay
Grocery retailers were flirting with curbside pickup prior, but many consumers had remained reluctant, preferring to pick out their own meat and produce instead. During the pandemic, curbside pickup became seen as a safer alternative to in-person shopping, driving numerous retailers to begin offering these services. In turn, many of these retailers invested in new refrigeration equipment, as orders awaiting pickup at the front of the store often require refrigeration.
Though consumer shopping habits will return to some semblance of normal as the pandemic recedes, as with online food delivery, many consumers will grow accustomed to curbside pickup due to its convenience and time savings, and many retailers will continue to offer and expand these services, bolstering long-term opportunities for refrigeration equipment sales.
'Unattended Retail' Trends to Boost Sales of Smart Vending Machines & Other Refrigeration
The rapid rise of "unattended retail" in the COVID-19 era is motivating some food and beverage retailers to invest in advanced technologies to optimize operations and avoid losses. For instance, in late 2020, US-based supermarket operator Giant Eagle installed advanced cooler doors from Coolers Screens that integrate high-resolution digital screens at multiple locations. The innovative coolers doors can collect a wide range of data for the operator as well as display advertisements and product information.
The increased appeal of contactless vending during the post-pandemic period will also boost investment in refrigerated vending machines, especially as technological innovation continues to increase the range of applications in which this equipment can be used. Contactless payment, for instance, offers new machines a clear advantage over predecessors.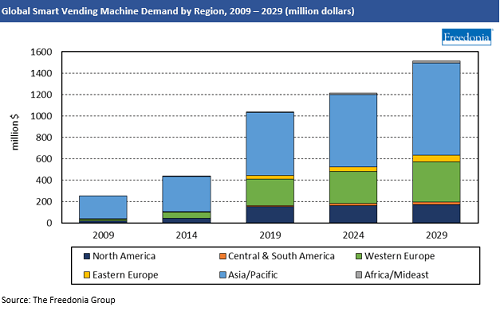 One product example is the goBox smart refrigerated vending machine jointly launched by UTStarcom and China Mobile Group in 2019. The goBox uses 5G and advanced facial scanning technology to identify a customer in less than one second. Sensors then note the items removed from the machine, after which the customer is charged for the purchase.
Global Demand for Commercial Refrigeration Equipment to Reach $35 Billion in 2024
These and other trends in the global commercial refrigeration equipment are explored in a new series of Freedonia Group studies: Global Commercial Refrigeration Equipment, Global Commercial Refrigeration Equipment Food Retail Market, and Global Refrigerated Vending Machines.
About the Author:
Peter Kusnic is a Content Writer with The Freedonia Group, where he researches and writes studies focused on an array of industries.