Have you ever wondered about the analytical approach that firms like The Freedonia Group and its Freedonia Custom Research division employ to accurately calculate the size of a market?  Check out two common techniques described below in an excerpt from "The 5 Keys to Estimating Market Size for Strategic Decision Making," a new white paper from Freedonia Custom Research.
What Technique Should I Use for Market Size Estimation?
There are fundamentally two different approaches to sizing a market: top-down analysis or bottom-up analysis. Ideally, in any market sizing exercise, both of these methodologies should be used to ensure the appropriate reliability of the data and to point out any areas requiring further research for reconciliation.
In a top-down approach, the starting point is an existing (or easily developed) estimate of total demand for a given product that needs to be further segmented or refined based on the outlined scope of the exercise.
In a bottom-up approach, demand is calculated by applying usage assumptions to an indicator or statistic that directly relates to the product being consumed (ie, a direct indicator).
Top-Down Analysis
When deciding whether to use this form of market sizing analysis, it needs to be determined if a reliable top-line demand estimate is available. There are numerous sources that one can turn to in search of a top-line demand estimate, each of which have advantages and disadvantages that need to be balanced in the performance of this analysis. Often times, more than one of these techniques can, and should, be used in conjunction with one another.
There are an increasing number of publishers on the market offering products with varying degrees of underlying research and accuracy. As such, if you choose to use this method, it is important to source your information from reputable sources, such as the MarketResearch.com publishing brands above.
Advantages

Disadvantages

Often the quickest way to get an estimate of demand.

Multi-client studies are intended to provide a broad overview of large industries.
The scope and segment definitions in multi-client studies may not align with those desired.
Option #2: Apparent consumption calculated from government production and trade statistics.
"If reliable industry shipment/production statistics and import/export data exist for a given product, via sources such as the US Census Bureau's Annual Survey of Manufacturers or Eurostat for production, and the US International Trade Commission or UN Comtrade for trade, it may be possible to estimate demand by estimating apparent consumption, which is calculated using the following formula:
Apparent Consumption = Domestic Production – Exports + Imports

Advantages

Disadvantages

Government and trade statistics are widely available.
Government statistics bureaus are trusted sources of data.
Often, time series data is available for a number of historical years, making forecasting easier.

Statistics are often limited to highly aggregated industries.
Apparent consumption does not take into consideration inventory held by end-users.
Trade codes for product classification may vary by country
Option #3: A production census of leading suppliers in markets with a concentrated supply base.
When the supply base is sufficiently concentrated (eg, fewer than 10 suppliers), top-line demand estimates can be developed by summing the sales (or production) of leading manufacturers of the product being researched.
Advantages

Disadvantages

A good method for estimating demand when no other top-line estimates exist, the market does not lend itself to bottom-up analysis and the supply base is concentrated.
Provides a way to cross-check estimates derived from other top-down approaches or those derived through bottom-up analysis.

May be dependent on information obtained from primary research. Given the sensitive nature of sales information, there is a risk respondents will not provide this information.
Data availability may be limited when the leading suppliers are privately held companies or small divisions within large publicly held companies.
Bottom-Up Analysis
The bottom-up approach is typically taken when no reliable sources of top-line demand exist or when a more reliable estimate can be developed by analyzing product consumption as it relates to a direct indicator. This approach can be more time consuming than a top-down methodology and is sensitive to seemingly small assumptions that can cascade through the analysis. In deciding whether or not to pursue a bottom-up approach, several questions should be asked:
Does product demand correspond intuitively to a direct indicator, such as houses, vehicles or households?
Is there a readily available source for these direct indicators?
Will it be possible to develop usage assumptions that may be applied to the direct indicator based on primary or secondary sources?
Below are just a couple examples of how you can arrive at a market size estimate using a bottom-up approach:
| | | | |
| --- | --- | --- | --- |
| Product | Indicator | Assumption | Demand Estimate |
| Windows | During 2017, 1,200,000 new homes were constructed in the United States. | Newly constructed homes require on average 15 windows each. | Demand for windows was some 18.0 million units in 2017. |
| Paper Towels | In 2017, there were 240,000 quick service restaurants. | An average quick service restaurant spends $500 per year on paper towels. | Demand for paper towels used in quick service restaurants was some $120 million in 2017. |
As noted, a bottom-up approach is sensitive to small changes in the underlying assumptions. As a result, it is generally good practice to independently validate the results of such analysis. Possible methods for validating results include cross-checking against other top-line estimates or testing the results with primary respondents. 
Want to Learn More?
For more information on this analytical approach and the types of information to consider when determining market size, download the latest white paper from Freedonia Custom Research, "The 5 Keys to Estimating Market Size for Strategic Decision Making."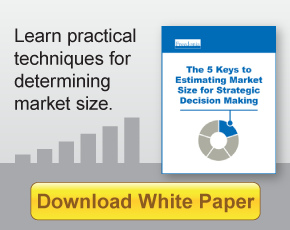 While each of the market research techniques outlined above can be helpful in estimating market size, it is the process of combining a number of these methodologies that sets Freedonia Custom Research apart. Freedonia Custom Research's analysts average more than five years of experience in market intelligence, with a diverse set of technical and business-related backgrounds that allows for flexibility in how each unique project is approached and executed. Additional valuable information related to market sizing and opportunity identification that can be compiled via Freedonia Custom Research's primary and secondary research techniques include competitive intelligence/market share and value chain information, as well as voice-of-market insights.
About the Author
Lee Steinbock is a project manager with Freedonia Custom Research where he is actively involved in market sizing analyses for a wide array of clients, including those involved in building materials, industrial goods and packaging.