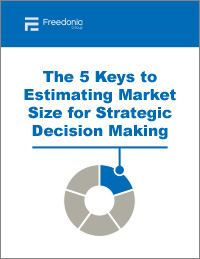 Need to know how to calculate market size?
In this white paper, expert analysts at Freedonia Custom Research share practical techniques that can be used for developing a reliable market size calculation.
Based on years of experience determining market size across a range of industrial and business-to-business markets, this white paper is a must-read for business professionals looking for trusted strategies.
Download this white paper to get the information you need for the following steps:
Defining the market scope
Selecting relevant primary and secondary resources
Using top-down analysis and/or bottom-up analysis
Developing forecasts for future market size
Fill out the form to download your FREE white paper today.