Move over Sajak, here comes Sprinkle.
In the nearly 80 years since the broadcast debut of the first game show, Americans have welcomed dozens of sharp-witted and sharply-dressed game show hosts into their living rooms. While unlikely to ever appear on the Game Show Network, Pet Family Feud debuted on April 3, thrilling and informing the audience at the 25th Annual Petfood Forum in Olathe, Kansas.  
The Pressing Question: What Matters to Pet Parents When Purchasing Food For Their Dogs and Cats?
The gameshow/workshop activity was hosted by Packaged Facts' research director David Sprinkle and Quiet Light Communications CEO Terry Schroff. The Petfood Forum exclusive Pet Family Feud was designed to provide in-depth exploration of crucial purchase drivers and pet parents' influence on the evolution of the pet food market.
The fun and games began after Sprinkle kicked off the forum's "Taste of Pet Food's Future" themed workshop with an opening presentation on the pet parent mindset in relation to usage patterns for dry vs. wet pet foods and relative interest levels in fresh, frozen, and freeze-dried pet foods as alternative formats. Sprinkle's presentation featured insights from Packaged Facts' extensive catalog of pet market research reports, including U.S. Pet Market Outlook, 2016-2017.
Despite the lack of traditional television exposure, Pet Family Feud audience members shared their delight with the rest of the world via social media, including this tweet by Lindsay Beaton, managing editor for Petfood Industry magazine:
"Learning consumer #petfood #trends via game show! #PetfoodForum @Ingredion @packaged_facts @qlc".
Discover the wealth of Packaged Facts' pet product research at: https://www.packagedfacts.com/pet-products-services-c124/.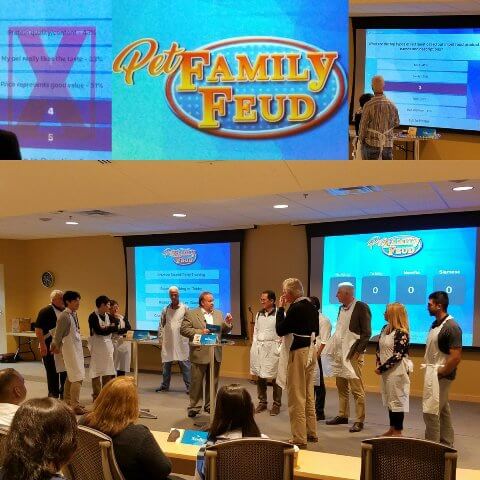 CREDIT: Photos used with permission from Lindsay Beaton, managing editor for Petfood Industry magazine