Among people who purchase home organization products, the bathroom is one of the rooms for which consumers most commonly purchase organization products, with a Freedonia Group survey finding that 68% of consumers who bought home organization products in the past months bought products for the bathroom.
Although the market for low-cost, commoditized bathroom organization products is substantial, sales of products that incorporate a number of higher value features continue to grow, creating opportunities for suppliers. These features may focus on the functionality of the product – such as faster/easier assembly or installation (e.g., ready-to-assemble products) – or on its appearance for aesthetic value, such as products that help foster a spa-like atmosphere.
A new Freedonia Group analysis forecasts sales of bathroom organization products to grow 1.5% per year through 2025 to $298 million, sustained by macroeconomic factors such as new home construction, renovations, and existing home sales. Below, we highlight four design and style trends in bathroom organization that are expected to promote market growth going forward.
Bringing the Spa to the Home Bathroom
Bringing elements of the spa has long been popular in bathroom renovations – even more so since the COVID-19 pandemic began, when many spas closed or cut back on services and home improvement spending surged. Storage is a key element to sustaining a spa-like environment, benefitting sales of "in-plain-sight" storage products that:
complement or enhance bathroom décor
allow consumers to utilize more space and reduce clutter
employ on-trend prints, patterns, colors, and/or designs
For example, value-added caddies or accessories that feature unique storage options for bathroom essentials (e.g., slots for toothbrushes and shaving items) can help avoid a cluttered appearance while storing items in plain sight. Additionally, products sourced from higher value materials, like wicker baskets and wood shelving, can help homeowners strike an upscale spa look.
Specialization & Customization
Specialization and opportunities for customization will help bathroom organization suppliers counteract competition from vanities and other built-in organization elements, as these features can allow workers to move more quickly, reducing labor costs. This includes products – such as cabinet accessories, shower caddies, and bins, baskets, and totes – that are developed for a specific purpose rather than for general use, and may incorporate adjustable features in order to fit consumers' specific needs.
The expansion of online shopping has allowed manufacturers and retailers to offer a much wider variety of specialized products, since they are not limited by a finite amount of shelf space. Digital marketplaces continue to expand, allowing smaller manufacturers the opportunity to showcase their offerings and increase consumer access to more specialized products.
Multifunctional Bathroom Storage
The importance of multifunctional rooms throughout the house grew significantly during the pandemic, as the rise of remote work and learning turned kitchen tables into classrooms, garages into gyms, and bedrooms into conference rooms. Though consumers were (hopefully) not Zooming in the shower, the bathroom is another room where multifunctional storage options are growing in demand, with caddies and organizers increasingly featuring slots and charging stations for smartphones and other electronics.
Easy-to-Assemble/Install Products
The vast majority of bathroom organization products are installed by consumers themselves; in 2020, DIY installations accounted for 96% of overall sales – though some niche segments, such as customized modular storage units, often require professional expertise. In order to support DIYers and expand the professional market, bathroom organization suppliers continue to develop new products that make assembly and installation easier or quicker:
Modular units that allow customization in areas of cabinetry or semi-customizable products installed over and around toilets can allow workers to move more quickly can cut labor costs.
The DIY market is further supported by bathroom organization products labeled as ready-to-assemble (RTA) or ones that are already largely pre-assembled.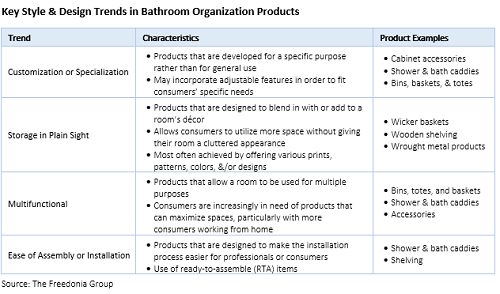 Want to Learn More?
Bathroom Organization Products is now available from The Freedonia Group.
About the Author:
Peter Kusnic is a Content Writer with The Freedonia Group, where he researches and writes studies focused on an array of industries.