On August 7, the US announced that it would enact an additional 25% tariff on imports of 279 products from China, effective on August 23.  Included in this group are around 150 plastic products, including:
Base plastic resins and polymers
Plastic pipe, tubing, and hose
Plastic adhesive tapes & labels
Plastic film & sheet
Plastic resins, the base materials used to make finished plastic products, are an enormous industry.  The US produces 48 million metric tons (105 billion pounds) of plastic resins per year, while China produces over 70 million metric tons (over 155 billion pounds) annually.
However, the tariffs are unlikely to have a major effect on the US plastics industry.  US imports from China totaled around $1.1 billion in 2017, just 1% of total demand.  The US has ample production capacity for plastic resins, and the industry has been investing in new manufacturing plants to take advantage of low-cost oil and natural gas feedstocks in the US.  Plastic processors on the West Coast of the US – far from the resin production hubs in the East and Gulf Coast – will be most impacted by the tariffs, as these are the companies that are most likely to source resin from overseas.
The forthcoming tariffs on plastic products from China, including plastic pipe and plastic film, will have more of an impact.  While these are smaller markets than plastic resins, imports from China are larger and account for a greater share of the total.  For example, the US imports nearly $1 billion of plastic film & sheet from China.  Plastic pipe and tubing imports were over $600 million in 2017, while imports of adhesive tapes and labels were nearly $300 million.
These tariffs are unlikely to fundamentally change the US market – even the $1 billion of plastic film & sheet from China is only 3-4% of US demand.  But China is either the largest or second-largest import source for all of these products, and higher tariffs will increase prices for US customers overall.  This will have the most significant effect on companies which purchase plastic film and sheet for bags and product packaging, as well as construction firms which use plastic pipe and tubing.
To Learn More
Want to learn more about tariffs and the industries they'll impact the most? Download the Freedonia Group's new white paper for the latest insights from experts.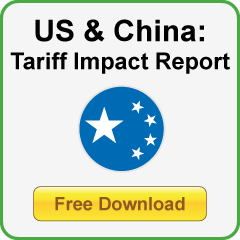 About the Author
Kent Furst is the Manager of Polymers & Packaging at the Freedonia Group, where he supervises the production of market studies on the chemicals, plastics, coatings, adhesives, flexible packaging, and rigid packaging industries.