For many Americans, dollar stores (that is, those that offer deeply discounted merchandise, as well as chains that sell every item for $1) are a great place to buy party favors and gag gifts, and to find the occasional great bargain. That book you meant to read years ago when it first came out, a roasting pan you have no intention of washing, or food storage containers that you doubt to ever return – such is the stuff consumers seek when they shop at dollar stores.
However, for a growing contingent of consumers, dollar stores represent an increasingly important source of low-cost kitchenware, cleaning products, cosmetics, toiletries, and other household products.
Limited Economic Recovery Highlights Relevance of Discount Retailers
The conventional wisdom is that dollar stores do better when times are tight. The US economy has been in a lengthy period of expansion, suggesting greater challenges for dollar stores. But the benefits of this expansion have overwhelmingly favored the upper rungs of the income spectrum. As a result, dollar stores have had no shortage of customers struggling to deal with stagnant wages and dwindling government benefits.
There are a couple of reasons that dollar stores can offer merchandise for, well, a dollar – especially when comparable products at other retailers may cost considerably more. Dollar stores tend to stock brands that are not well known, and they often carry merchandise acquired via liquidation sales from retailers that have gone out of business. But they also carry many products that are made outside of the US, particularly China.
New Tariffs Could Drive Up Dollar Store Pricing
With the Trump administration's sweeping imposition of tariffs on $200 billion in Chinese imports in September 2018, a wide variety of dollar store merchandise will be levied with a 10% duty (rising to 25% at the end of the year).
This may result in price increases that make nail polish, spatulas, and dish towels more expensive in dollar stores where millions of lower-income Americans shop for household essentials. Furthermore, a downturn in business for dollar stores could also affect the thousands who work in these stores, most of whom are at the lower end of the income spectrum. While the ostensible target in the Trump trade war is unfair Chinese trade practices, among those most affected will be Americans least able to absorb the higher prices these tariffs will inevitably bring about.
For More Information
Want to learn more about tariffs, retaliatory tariffs, and the industries they'll impact the most?  Check out  "US & China: Tariff Impact Report", a white paper from the Freedonia Group.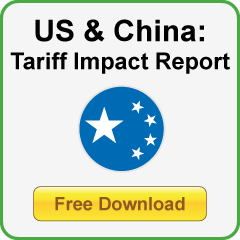 About the Author:
Mike Richardson is a senior analyst at the Freedonia Group, where his work focuses on the US and global packaging markets.