Steel and Aluminum Tariffs Caused HVAC Prices to Rise
The administration's initial steel and aluminum tariffs caused raw material prices to rise in March 2018 as foreign suppliers became subject to US tariffs and as domestic suppliers also raised their prices as cheaper competition was eliminated.
Domestic HVAC equipment manufacturers quickly felt the repercussions of these price hikes, with the Air-Conditioning, Heating and Refrigeration Institute (AHRI) maintaining that the tariffs were detrimental to US HVAC equipment manufacturing competitiveness.
The US HVAC market sustained an additional impact in July 2018 when the US applied tariffs to $34 billion in Chinese goods, among them industrial heating equipment and industrial furnaces.
Consumers Caught in the Tariff Crossfire
The implications of the diverse tariffs on the US HVAC equipment market are most perceptible in the increases in prices to the consumer. This poses a problem for the domestic industry because, when faced with high prices, consumers are likely to select the least expensive option or choose to repair old, inefficient HVAC systems rather than replacing them with new, but more expensive, efficient systems.
Tariffs May Cause Some Companies to Shift Production
Thus, the higher prices also have implications for local HVAC equipment manufacturing. For example, in order to keep their costs competitive, domestic manufacturers may quietly shift production to countries unaffected by the steel tariffs, thereby resulting in lower steel prices to the company and lower end product prices for the consumer, but also a reduction in domestic HVAC equipment manufacturing.
Steel and Aluminum Tariffs Not Having Intended Effect
And, while the tariffs were touted as a means of supporting the domestic steel and aluminum industry, a survey conducted by Heating, Air-conditioning & Refrigeration Distributors International (HARDI) in March 2018 concluded that:
current overall domestic steel and aluminum production capacity is insufficient to meet current domestic demand
with many nations specializing in the manufacture of certain types of steel and aluminum or related products, US steel and aluminum producers are not equipped to manufacture certain targeted materials, such as low-gauge foil involved in the manufacture of foil-scrim-kraft (FSK) facings used on duct insulating products
To Learn More
Want to learn more about tariffs and the industries they'll impact the most? Download the Freedonia Group's new white paper for the latest insights from experts.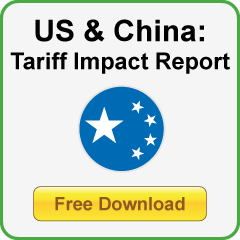 About the Author
E. Reta Sober  is an industry analyst at The Freedonia Group where she writes studies related to electrical equipment, machinery, and the automotive industry.