Coal production in the US continues to fall year-over-year, despite the best efforts of the current administration to end the "war on coal" and efforts by industry insiders to maintain market share. Even with relaxed environmental standards, demand for coal is falling precipitously. If environmental regulations are not responsible for killing coal, what is?
A Lump of Coal in Your Stocking
With the beginning of a new Presidential administration came concentrated, enthusiastic efforts to revive the ailing coal industry. Environmental regulations were eased through the rollback of the Clean Power Plan, encouraging increased investment in coal.
Initially, these efforts were effective. Production saw a slight boost and jobs in the industry saw some expansion, but the uptick didn't last. It couldn't.
Canary in the Coal Mine
Competition from alternative energy sources poses a significant challenge to the coal industry. Coal production saw significant declines between 2011 and 2016 largely due to the increased availability of affordable natural gas resulting from the rapid expansion of the fracking industry. As battery technology improved, and continues to improve, intermittent energy sources such as wind and solar have become more competitive.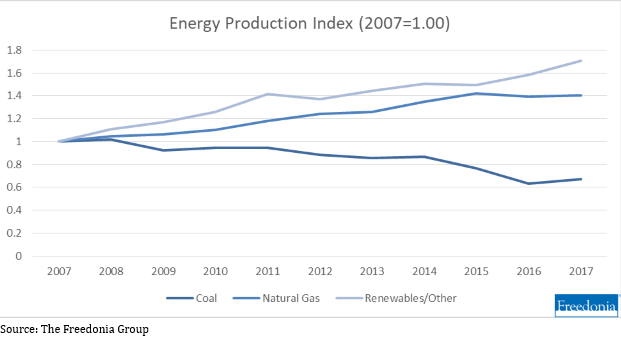 Many coal-fired power plants have been converted to utilize alternative energy sources, downsized, or outright demolished. A significant revival of the coal industry remains unlikely – not because of regulatory challenges, but good old-fashioned competition.
Want to Learn More?
Don't worry, we have you covered! For additional information and analysis of US industry trends, see Coal: United States, a report published by the Freedonia Focus Reports division of The Freedonia Group. This report forecasts to 2022 US coal production and demand in short tons. Total production is segmented by rank in terms of:
sub-bituminous
bituminous
lignite and anthracite
Total demand is segmented by market as follows:
electric power
commercial, industrial, and other markets
To illustrate historical trends, total production, total demand, the various segments, and trade are provided in annual series from 2007 to 2017.
While you're there, check out some of our related reports, which include:
About the Author
Chris Dyer is a Market Research Analyst for Freedonia Focus Reports. He holds a Master of Arts in Security Studies, and his experience as an analyst covers multiple industries.